A financial comparison is a statement that allows the organization to compare financial data of either the same organization of different periods of time or comparing competing companies. This statement includes sections from an income statement, balance sheet, and even cash flow. This enables the statement to enlighten the trend of finances followed by the organizations.
Uses
Apart from so many benefits, financial comparison analysis sheet template enables the organizations to make important decisions about the capital investments or other financial decisions. It easily becomes the basis for many crucial decisions which even involve the going concern of the entity apart from utilizing finances to purchase items for different purposes. This financial comparison analysis template allows the entity to plan out all the necessary steps required for taking rent, lease or production, investing or lending capital related decisions. Other than that, a company can make comparisons with other competitive organizations to help make it overcome the weaknesses or shortcomings of the business.
It also lets the company calculate taxes, evaluate the performance of the employees, compare the yearly performance of the company and to reach and set the prospective financial goals. Financial comparison is a vital tool used widely by clients, investors, income tax departments and especially by the auditors as it describes the performance of the organization in the best way. Proper details and research are done before drafting this comparison sheet as a lot of decisions are at stake because of it.
Template
The template for this statement should come in a column format. The columns should mention the years which need to be compared or the competing companies. Depending upon the requirements of the organization, a number of columns vary accordingly. The items that are generally compared are written in the first column and the other columns are for numerics. Items in the first column should include details related to assets, equity and liability, which is the segment of a balance sheet, income data taken from the income statement and financial ratio taken from the cash flow statement. Each part of the statement shall have the total amount at the end of it to make it easier to compare.
Preview and Details of Template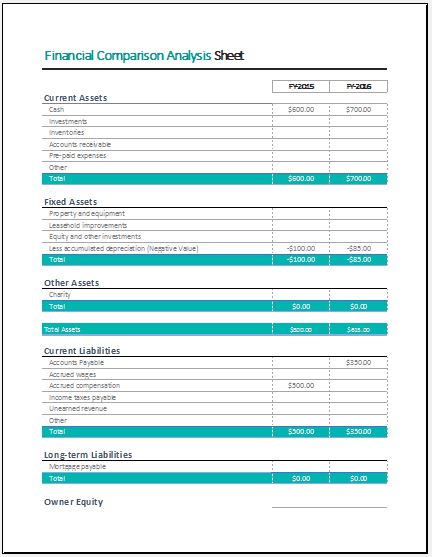 Financial Comparison Analysis Sheet Template
File: Excel (.xls) 2003+ and iPad
Size 53 Kb | Download
License ENERGY [Personal Use Only]
[Not for resale & distribution]