A science and a mathematic student often has to go through the turmoil of the polar coordinate assignments. The assignments look like a big mountain that they have to cross. Polar graph papers are tricky to use but students nowadays use them on a wide scale to do their work. They are easy to use and can be customized easily as well while you look for them online.
What is a polar graph paper?
A polar graph paper is also called polar coordinate paper. It has concentric circles on it along with the intersecting rays. The polar coordinates could be easily drawn on theses graphs since you can easily calculate the distance from the origin. The angle of the path is also given so you don't have to worry about the angle anymore.
Types of the polar graph paper:
The graph papers are available in the letter size and the logarithmic and note paper sizes as well.
The circular percentage could be adjusted from 1 to 7 inches.
The angles could be adjusted as well with the radials being available from 1 inch to ½ inches.
 You can easily use the compass direction graph to find out the directions on the map.
How to customize a polar graph paper?
You can get the polar graph papers from our website. It is designed for MS Word software for your convenience. Here is a list of things that you can customize according to the type of project that you are doing.
The size of the page could be adjusted easily.
You can adjust the outer border of the page ranging in 0.5 to 2 inches.
The line weight could be adjusted between the very fine lines to very wide lines.  E.g. 0.8 points for the very wide lines and 0.03 points for the very fine lines.
The number of the concentric circles on the page could be of any number of your liking from 1 to 10.
The angle of the rays could be customized as well. You can choose any angle whether it is 5, 10, 15, 30, or 45 degrees.
Preview and Detail of Templates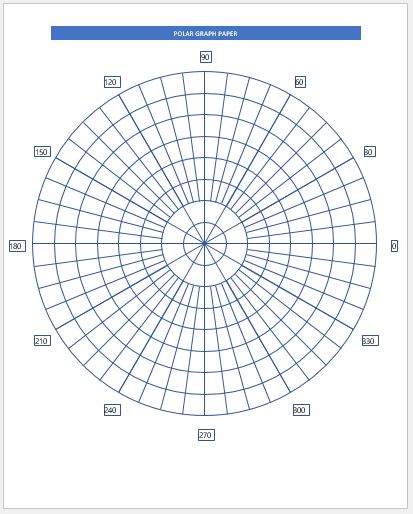 Polar Graph Paper Template -1
File: Word (.doc) 2003+ and iPad
Size 312 Kb | Download
---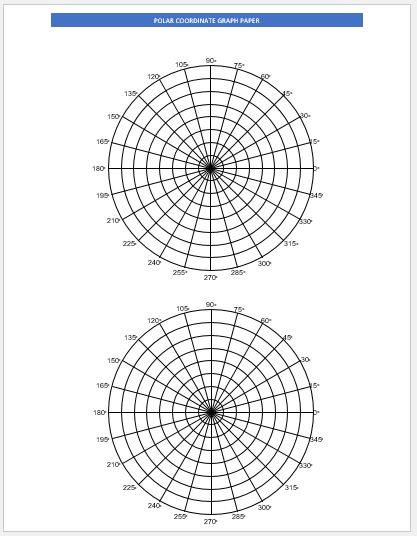 Polar Graph Paper 2 per page
File: Word (.doc) 2003+ and iPad
Size 312 Kb | Download
---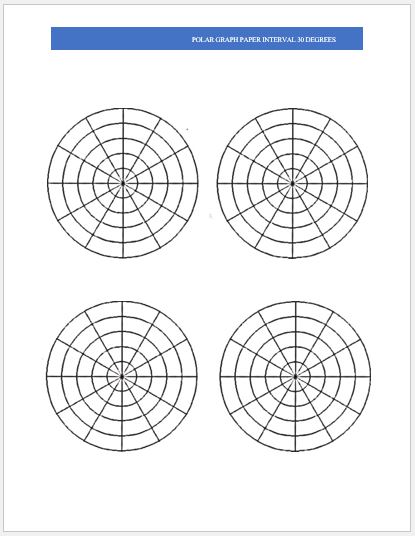 Polar Graph Paper 4 per page
File: Word (.doc) 2003+ and iPad
Size 312 Kb | Download
---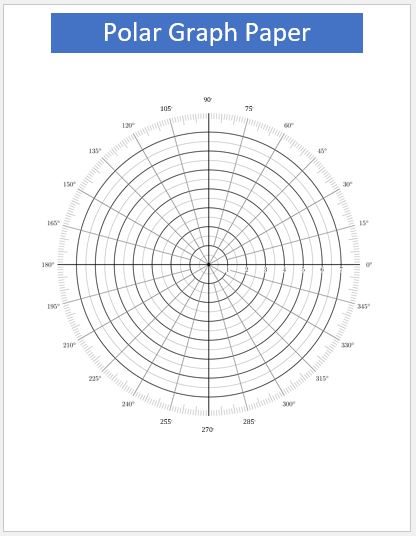 Polar Graph Paper -Detailed
File: Word (.doc) 2003+ and iPad
Size 312 Kb | Download