An employee leave planner is a simple spreadsheet that allows the user to track, manage, record, and report on an employee's leave, half-day, or absence from working hours across the whole calendar year. This planner can be used to record and monitor the leaves for a financial year, starting from any month. This can also keep records for other specified periods of time, depending on the requirements of the company.
Users and uses of this planner template
The management of an organization can use this employee leave planner template to record and track vacations, sick leaves, casual leaves, and even half days. Furthermore, because of this tracking, it becomes easier for the management to plan any project or manage the leaves.
The template can prove to be helpful as it assesses the availability of employees during the said month. For the manager of a project, it is vital to know the present and future availability of his team.
A basic or typical planner allows the user to plan quickly and effectively and track who has taken time off, how much of their allotted leave has been used, and how much of their leave is still pending.
Templates can be edited, printed, and even modified according to the use or need of the organization. It can also be referred to as a staff leave planner.
Template
The best and most typical way to make this template is to keep it simple. Start by mentioning the month and year to which the sheet of paper belongs. Both of the details should be written at the top of the sheet. The main body should be drafted in a column or table format.
The first column should have the names or IDs of all the employees. The number of leaves allotted to each employee should follow in the second column. The third and fourth columns should be allotted to leaves utilized and leaves remaining, respectively.
A column should be dedicated to mentioning the timings; this can be used in half-day leaves or organizations where hourly wages are calculated. The other part of the table should provide a cell for each day of the month.
Preview and Details of Template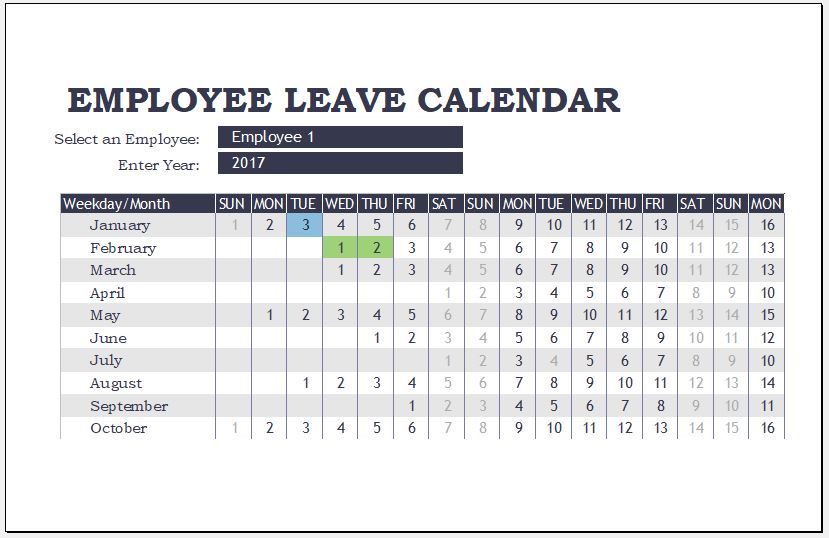 File: Excel (.xls) 2003+ and iPad