Petty cash vouchers are documents or forms that track minor cash expenses within an organization. These expenses may include furniture repair, fuel adjustment, office supplies, meal plans, etc. These vouchers keep track of cash paid from the petty cash funds.
Although organizations have finance departments and strict policies to track the expense flow, petty cash vouchers or funds are attributed to minor tasks or reimbursements that should not follow the complex financial procedures of the organization. Petty cash funds are also managed by the finance department, and one officer is appointed to cross these funds whenever needed.
Every workplace requires bulb replacement, furniture repair, or a continuous supply of stationery to work efficiently. Petty cash funds were generated to take care of the above-mentioned needs without going through complex procedures to make sure that the requirements of employees were met in less time.
Petty cash vouchers are considered significant for the following reasons:
All the cash can be traced back easily because each expense is documented and proofs of expenditure are attached.
Based on the proof, it can be concluded that petty cash vouchers are used for professional expenses rather than personal expenses.
All the discrepancies regarding cash can be nullified by keeping track of every expense in log books.
Similar to other financial expenditures, petty cash vouchers can be maintained to ensure error-proof spending of petty cash vouchers.
Application
Petty cash vouchers are easy to use because they are used in almost all organizations. Simple steps followed to acquire petty cash vouchers are given below.
Petty cash vouchers are available at the finance or accounting department; therefore, request the reporting office to provide you with a petty cash form.
The petty cash form requires the information of the employee, i.e., name, amount of money requested, date of request, and description of the payable item.
The form is then approved by the reporting officer based on the credibility of the item in question.
After the approval of the petty cash form, cash is granted for the final purchase.
Purchase the item and enter all the information on petty cash vouchers, which can then be returned to the reporting officer for bookkeeping.
Contents
The contents of petty cash vouchers vary from one organization to another based on the working requirements of the organization. A template with all the contents for petty cash vouchers is given below.
Date: __/__/__
Paid to: _____ (Name of employee)
| | | | |
| --- | --- | --- | --- |
| Sr. No. | Date | Description | Amount |
| 1. | 5/7/22 | Office chair | 4000/- |
| 2. | 10/8/22 | Pencils | 500/- |
Authorized by: __________
Signature:
Date: __/__/__
Reporting officer: _________
Signature:
Date: __/__/__
Petty cash vouchers allow organizations to manage small expenses on a daily basis that will be too much for the normal accounting system used for business transactions. It is useful to have petty cash vouchers so that the working environment runs smoothly and employees do not sit idle waiting for stationary or any other petty object. Information collected through vouchers can be used to manage finances for these expenses and help organizations manage their budgets efficiently.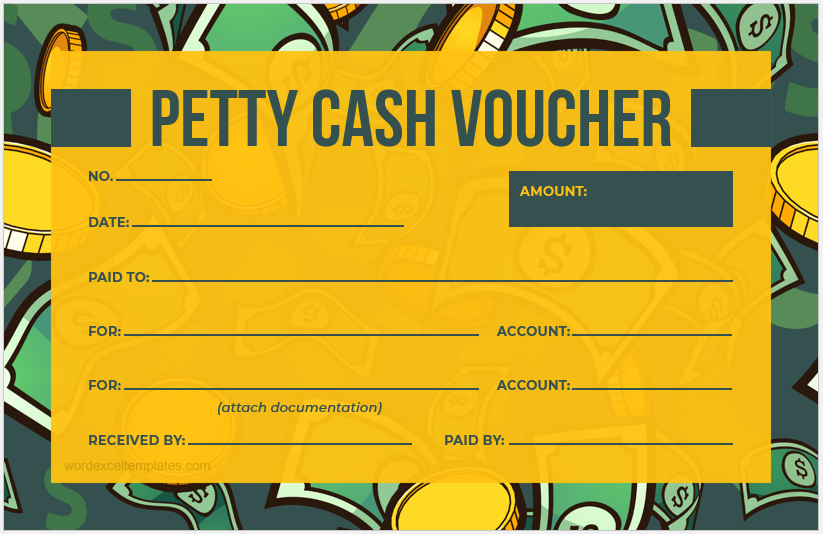 File: Word (.doc) 2003+
Size: 53 KB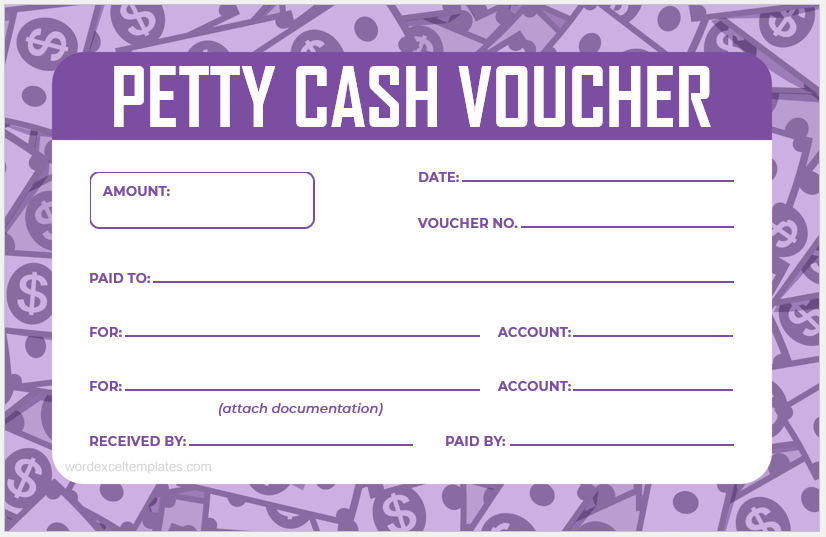 File: Word (.doc) 2003+
Size: 53 KB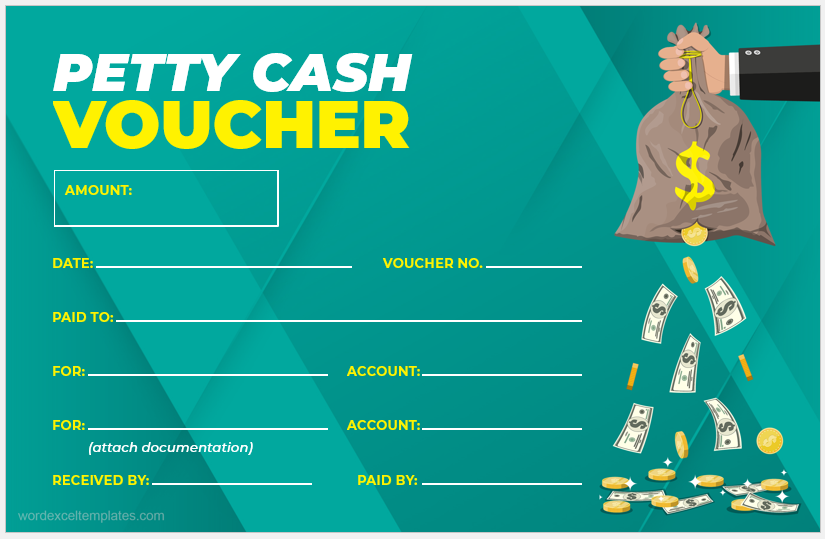 File: Word (.doc) 2003+
Size: 53 KB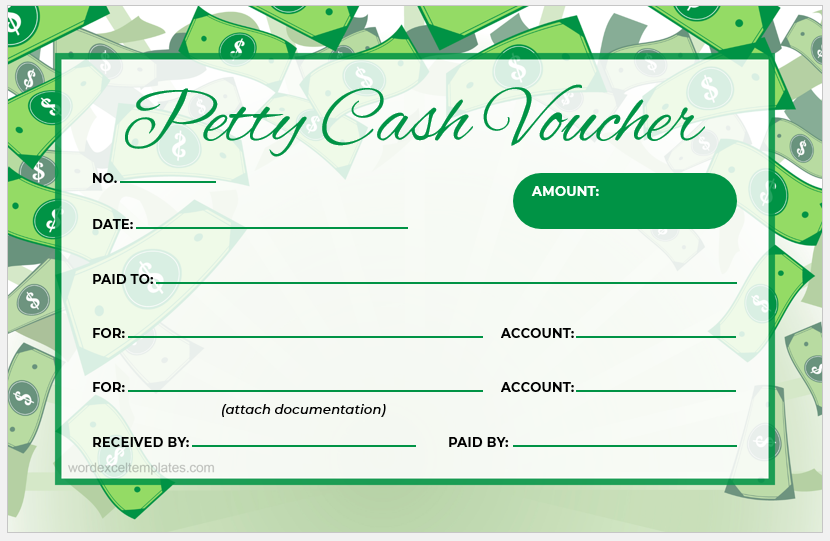 File: Word (.doc) 2003+
Size: 53 KB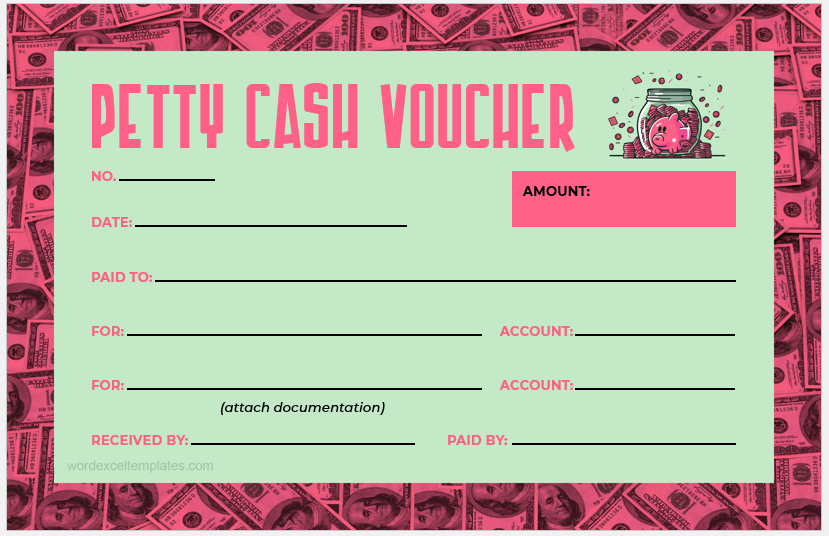 File: Word (.doc) 2003+
Size: 53 KB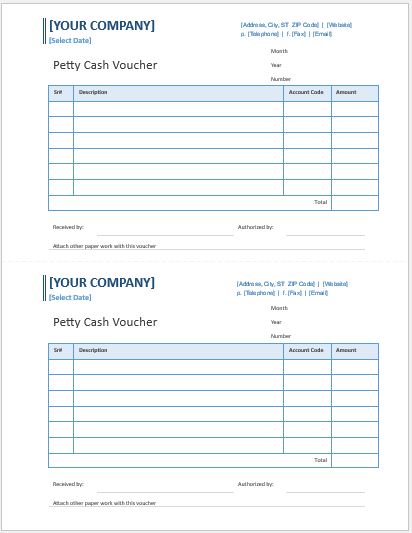 File: Word (.doc) 2003+ and iPad
Size: 53 KB