What is a petty cash voucher?
Petty cash is a small amount put separately so that the miscellaneous expenses of the business can be met with ease. These expenses can be recorded in a voucher to form a report, all transactions and cash inflow and outflow are recorded in this report at the end of the day. This document can be printed out on a piece of paper with the company letterhead or a simple page. A petty cash voucher is basically a small form that is used to file any payment from a petty cash fund.
Uses and purposes
A petty cash voucher is basically just a supporting document that provides the basis of accountability of all the cash related activities. The voucher keeps a record of all the cash inflow and outflow activities and thus can be produced whenever a requirement occurs.
Every organization uses its own format to keep the record of petty cash, however, using a standard format template can help the organization in many ways, like not missing important details and following the same set pattern. Petty cash vouchers are generally referred to as petty cash receipts whenever any cash is withdrawn or added to the petty cash fund.
Template
The best way to draft a petty cash voucher is to follow a standard template and make changes accordingly.
The simplest and the most common template starts with the reference number of the voucher on the left top corner and the date on the right.
The main voucher or the body of this receipt should be drafted in a tabular format. The first column should be allocated to the date. The second must mention the details or descriptions of the product purchased or service utilized by using the amount from petty cash fund. In the last column of the table, the amount utilized by the item or service should be mentioned in front of its description.
At the end of the table, the total amount should be calculated and jotted down. Make sure that at the bottom of the template the person who authorized and the person who received the payment should sign their names for future references.
Preview & Details of Template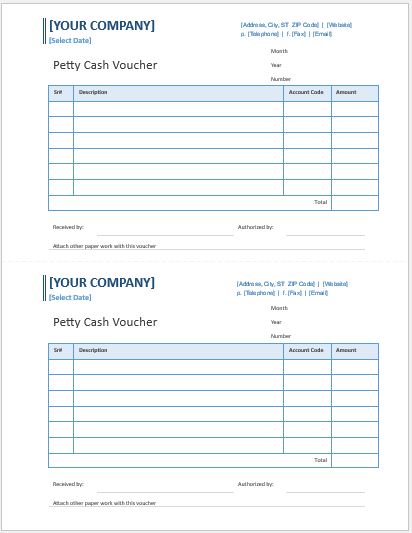 Petty Cash Voucher Template
File: Word (.doc) 2003+ and iPad
Size 53 Kb | Download
License ENERGY [Personal Use Only]
[Not for resale & distribution]