This letter is written by child's parents to School or College management when they have not been able to attend the PTM owing to unavoidable circumstances. In normal circumstances, parents are eager to know about their child's performance in the school but sometimes, they do not find it possible to attend parent's meetings at school or college.
Importance of this letter
Missing PTM points directly towards parents' negligence regardless of the fact of how vigilant they have been about their child's performance. Writing an excuse letter can overcome the damage to the repute of parents and they can prove themselves responsible in the eyes of management.
Which one is beneficial? Oral or Written letter?
It is a professional way to inform the management through letter instead of telling them orally or through phone call only. First, it carries the benefit in itself and you would be able to explain your excuse in a more précised and comprehensive way. Secondly, management would get sufficient time to understand your excuse and if possible, they would accommodate you further.
Tips for writing an effective excuse letter
Following points should be kept in mind while writing this kind of letter:
State it clearly that why were you not able to attend the parent's meeting.
Accept your responsibility in the letter and let the management know that such ignorance would never be shown in the future.
Request the school/college management to arrange a separate session with your child's class teacher if possible.
Sample -1
22-05-20XX
Michelle Johnson,
Principal,
The City School, John campus
Hide Park Michigan.
Dear Principal,
I would like to say thanks for inviting me to a parent's meeting held on 15-05-20XX at your school. I am writing this letter as an excuse because I was not able to attend the meeting on the said date due to unavoidable circumstances.
I am a responsible parent, keen on my child's progress, and always keeping an eye on his performance in the class. But at the same time, I want to mention here that I work in a factory as a laborer. At times, it becomes a real challenge for me to manage and spare some time for the family and to keep a fair balance between my professional and personal life.
Despite all these factors, I always attended the PTM at any cost in order to know about his progress and drawbacks in his studies. I was looking forward to attending the meeting this time as well. Early in the morning on the meeting date, I found that my little child is suffering from high fever. Without wasting a single moment, I took him and ran towards the hospital. He was admitted to the hospital and after some treatment, discharged after three hours. At that time, the meeting time had passed.
I shall be very thankful to you if you arrange for a separate meeting with his class teacher keeping in view my problem. I shall be very thankful to you for this act of kindness.
Yours Sincerely,
Anderson.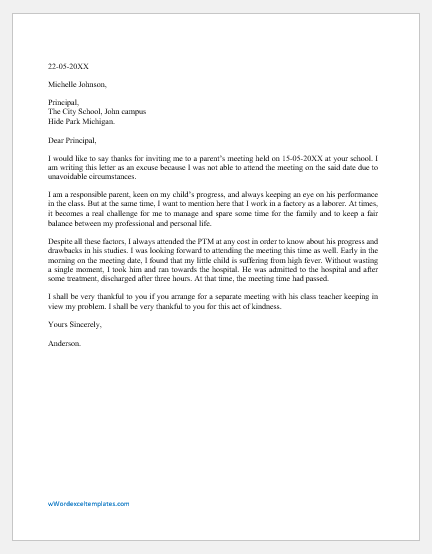 File: Word (.docx) 2007+ and iPad Size 23 Kb |
Download
---
Sample -2
Dear Principal,
I hope you will be fine. I am the father of Lee who is studying in grade 8th under your kind supervision. I am writing this letter to submit my excuse for not attending the parent's meeting scheduled to be held on 15th of May, 20XX. I never wanted to miss such a great opportunity to interact with my child's teachers and to know about his performance in the class.
A few days before PTM, I received a letter from my elder child's university to attend the graduation ceremony of his batch. It was being held on the same date as PTM. I was invited with my wife to attend the event. My presence was the biggest gift I could present at that time. Therefore, I decided to attend his graduation ceremony and left the PTM.
I request you to accept my excuse and inform me about an alternative day when I could come to school to know about my child's progress.
Regards,
Jacobs Paul.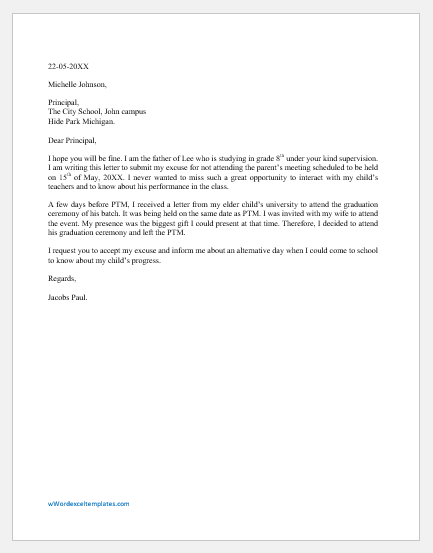 File: Word (.docx) 2007+ and iPad Size 21 Kb |
Download
---