After missing an interview due to any reason, a candidate usually writes this letter to the concerned organization in order to explain the reason for being absent and requesting them to reschedule the interview if the management is kind enough. Although it is quite difficult for an organization to listen from your side and to reschedule the interview but still there is a chance of your success if:
You state a clear reason behind missing that interview.
You admit your fault and accept your responsibility to reach the allocated place on time but failed to do so due to unavoidable circumstances.
You finally leave an impression in your letter that you are the ideal candidate for the proposed post.
Sample -1
22-05-20XX
Craig McMillan
Hyde Park, Michigan.
Dear Sir,
I am writing this letter to submit my excuse because I missed my interview for the post of assistant manager on 15-05-20XX without informing you. I know that my attitude was highly nonprofessional and nonserious because I missed a precious opportunity of joining such a prestigious organization of yours. Through this letter, I also submit my apology for the inconvenience caused by my behavior.
I must mention here that I did not miss the interview intentionally. On my interview date, just before leaving home, I received the call from an unknown number that my uncle has met a severe accident and that he has been hospitalized. I ran toward the hospital blindly after listening to this sad news. My uncle has only one son and he was not able to take good care of him therefore I had to assist him in the hospital for arranging blood and fulfilling other hospital formalities. Doing all this, I had completely forgotten about the interview.
I want to tell you that I have been preparing for this interview for a long. I was waiting for it eagerly and at the same time I am very sorry for wasting the precious time of respected interviewers belonging to such a prestigious organization. I want to start my career in a fully grown organization like yours. Therefore, owing to the above-mentioned circumstances, I request you to reschedule my interview keeping in view my interest in this opportunity.
I hope you will understand my problem and give me another chance to express myself. I assure you to prove myself as an asset to your organization. I am looking forward for your positive response. Thanking you in anticipation.
Regards,
Billy Bowden.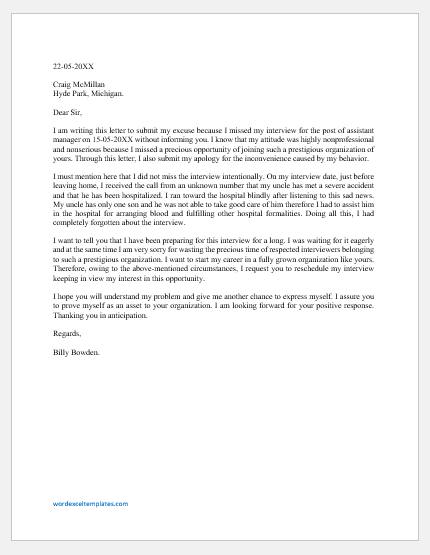 File: Word (.docx) 2007+ and iPad Size 21 Kb |
Download
---
Sample -2
Dear Sir,
I am regretfully writing this letter to submit to you my excuse for not attending the interview in your firm for the post of Public Relations Officer scheduled on 15-05-20XX. I left my home at 7:30 a.m. so as to reach the office at 8:00 a.m. which was the fixed time for the interview. It was illness of my fate that a truck had hit hard with a van and it had caused a huge traffic blockage on the way to your office. I tried my best to find an alternative way to reach on time but all in vain as there was a great hue and cry on the road. It took me one and half an hour to escape from that place.
But I know this is not professionalism on my part. I should have informed you through text or voice messages about the situation. There is no doubt in it that you are a renowned multinational firm, believe in professionalism and you urge your employees to be punctual by all means and to inform well before time if they get late.
Despite exhibiting such an error, I consider myself a right candidate for the said post. Therefore, I request you to reschedule my interview and give me another chance to overcome my loss which I have faced in terms of missing this interview.
Regards,
Joseph Grinnell.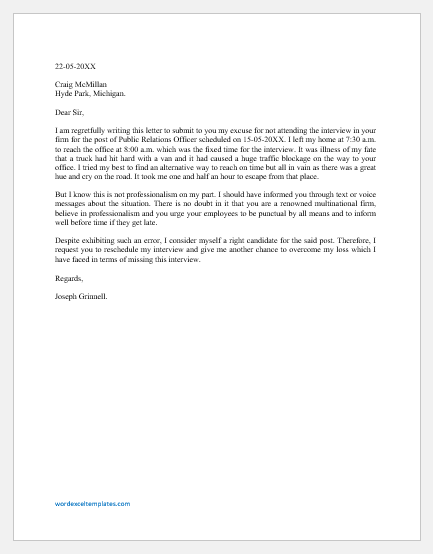 File: Word (.docx) 2007+ and iPad Size 22 Kb |
Download
---