When employees need to take some time off from work, they must let their supervisors know and make a letter request. An employee can use the time-off request letter to formally apply for leaves or holidays. In many offices a time off request form is used by employees to request for holidays.
Usually, this is paid time off. For example, an employee wishing to relax or spend time with family after a hectic schedule can request paid time off. Similarly, employees may also take time off for medical reasons, traveling, or any other purpose.
A time off request letter mentions the employee name, the number of holidays the employee is asking for and the type of holiday it must be considered. Employees can simply take one of these letters, fill it in and hand it to the HR department after getting approval by the concerned authorities (usually a supervisor).
The format of the letter includes:
A blank page or sometimes require the company letterhead
The employee name
Types of leaves available at the organization (employee can tick the most appropriate option)
A space for time off required (in days)
Signature of official supervisor
Signature of HR officer/manager
We provide free templates for time off request letters. Our meticulously designed templates will take care of your time-off requests. There are many templates to choose from. The best part is that they are editable. Download for free and customize them for your office easily.
Sample -1
22-05-20XX
James Anderson
CEO Michigan Microfinance limited
City View Tower, Michigan.
Dear Sir,
I hope you will be fine and enjoying the best of health. I am writing this letter to request time off from 01-06-20XX through 15-06-20XX. I know it will never be easy for you to tolerate my absence for so many days, but I have to solve some problems relating to family matters and that is why I want to take these days off.
You know that I am living with my family here in the USA while my brothers and sisters are living in Canada and I am the eldest of all. Unfortunately, in my absence, they had several clashes between them. My younger brother called me last night and requested me to solve this problem. I must state here that we are not having our parents alive and being their eldest brother, it becomes a matter of supreme importance for me to bridge the gap between them and keep them united. Therefore, I request you to accept my time off request so that I would resolve my family issues.
I have talked to Ms. Anna and she has promised me to look after my work in my absence. I have no pending meetings with clients as well. So keeping in view the above-mentioned facts, entertain my request and give me a chance to say thanks.
Regards,
Watson Lee.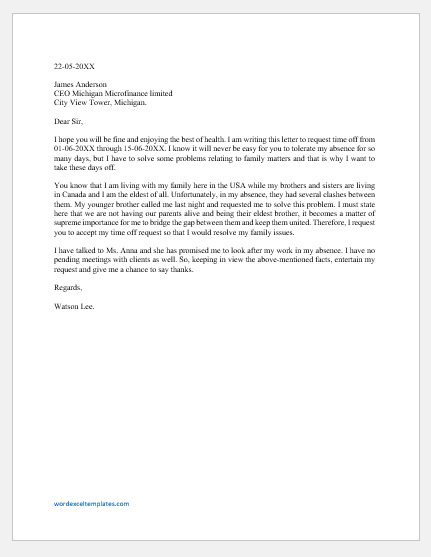 File: Word (.docx) 2007+ and iPad Size 21 Kb |
Download
---
Sample -2
Dear Sir,
I, Bradshaw, working as an account assistant in your company, forward my formal request to take my time off for 15 days from 1st of June 20XX to 15th of June 20XX. My family is going to Canada on vacations so that's why I want to take these days off. We have been planning this trip for the last five years and I am sure that I have enough leave balance to be used for this purpose. 
In my absence, my workload will be managed by Mr. Anderson and I have talked with him. He will also handle my clients. I have also completed my paperwork in advance which would be used during my absence.
I hope positive response from your side. Thanking in anticipation.
Regards,
Bradshaw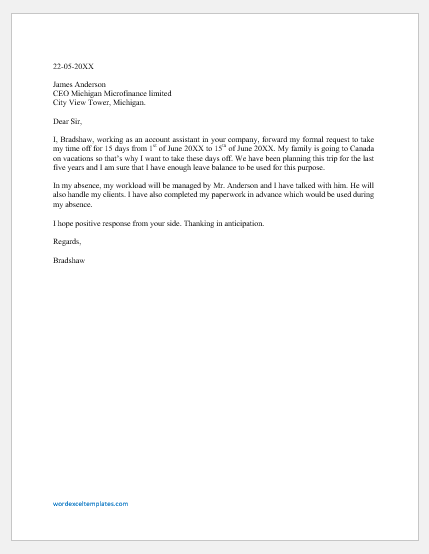 File: Word (.docx) 2007+ and iPad Size 22 Kb |
Download
---