Death is inevitable and feared by many. When the death of some loved one occurs, one is naturally upset and tense. They may forget about life and that life continues. If one of your family or friends has passed away, you will need time off work to handle the loss. It is necessary to inform your employer about your absence.
What is an excuse letter for being absent from work?
An excuse letter for being absent from work due to death is the professional way to tell your boss that you will not be able to attend work or have not attended work because one of your loved ones has died. You may have forgotten to tell your employer this especially if a close family member has died. It is necessary to send this letter as soon as you can.
Importance of the excuse letter
It is careless if you are absent from work and do not inform your boss. This gives a bad impression that can stay. Therefore, it is a good idea to submit a formal letter that tells the employer that you were absent or absent due to death.
Tips to create an excuse letter:
When someone has died you should submit an excuse letter for being absent from work and have all the necessary details on this. Look at the below tips for some ideas on how to make this letter:
Do not write it: You mustn't carelessly write the letter by hand. This is not professional. Rather type it in Microsoft Word. If your company allows this, you can email the letter to the employer. This will be easy as you will be busy if a death has occurred.
No long story: Do not write a long and boring story. Your employer is not free to read it. Simply tell whose death has occurred and from when till when you will need to be absent. I apologize for any inconvenience that this will cause. State that you are willing to fulfill your absent time asap.
When you need to be absent from work due to death remember to tell your employer as soon as you can and in a professional way.
Sample Letter
Olivia Bistrie
9 3rd Rd. East Haven, CT 06512
New Haven County, US
17th April 20XX
Mrs. Kate
Zinble Agencies
93-a Zinble Tech Tower
New Haven County, US
Re. A Piece of Excuse for Being Absent from Work due to Death
Dear Kate,
I am working in your agency as a finance manager. In the recent past, I was absent from the office without informing the company for three days. My phone was not with me so I couldn't inform the office. My maternal aunt who looked after me whole my childhood, suddenly, expired in a car accident.
Kate, she was very dear to me as she brought me up and made me who I am today. I was very much saddened after hearing the news of her death. My husband was out of town due to his business meetings and I was all alone and severely depressed in this situation. My aunt hails from Orlando which is almost 1200 miles from my place and takes almost eighteen hours of drive. It all was so fulminant that I couldn't get a flight from any airline.
Now, when I am back to work I came to know from your assistant that I have been suspended from the job for one week. I was shocked and jolted hearing this as it was entirely unexpected. I am here to explain my absence and appeal to you to consider the rationality behind my three-day absence without notifying. I have been informed about the one-week suspension of my job telling that I shall not receive any payment of that one week. I request you, Kate, as I am already going through serious financial strain and depression due to the death of my closed one.
I want you to reconsider my suspension orders, please. I'd be very grateful to you if you empathize with my current situation and refute my suspension orders. I promise you to never repeat this act.
Looking forward to the refute of my suspension
Sincerely
(Signature)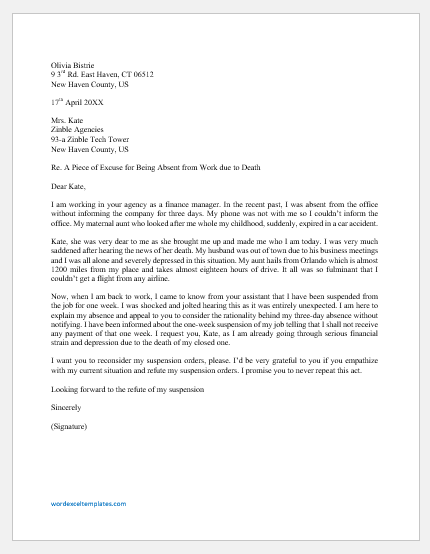 File: Word (.docx) 2007+ and iPad Size 22 Kb |
Download
---