A funeral is an emotional time that is tough on loved ones. Attending this is important as well. If a funeral occurs on a working day, you will need to tell your employer that you will be absent. The funeral may be in another city and you will need more days off. Your employer must know of this.
What is an excuse letter of absence due to attending a funeral
An excuse letter for being absent at work because of a funeral is the letter that an employer receives from an employee. It states that the employee needs to be absent due to the death of a loved one, and so need to attend the funeral.
Importance of the excuse letter
An excuse letter is required by all businesses and companies from employees so that the employer knows when a staff member will not be able to work. The employer needs to know the reason behind this. A formal and simple way to inform your boss is by sending them an excuse letter.
Tips to create an excuse letter:
When you need to go to a funeral you must not forget to tell your boss about how many days leave you will need for this. To do this professionally, you can look at the below tips:
Select a professional method: Because the letter is a formal one, you need to send and write it professionally. If the workplace allows it, you can simply type the letter and send it by email. If your work requires a hardcopy then you can type the letter in Microsoft Word and print it out.
Important points to include: You must not include irrelevant details in the letter. Make it precise, telling that you need to go to a funeral of a loved one. If you need more than one day off, inform the employer why this is so. Tell how many days you hope to be away from work.
Tell if you will be available: I sincerely apologize for any inconvenience, and if it is possible you can tell the boss to send you work via email.
An excuse letter needs to give valid reasons for why you need to be absent from work and be formal.
Sample Letter
Jacob Coco
8877 Howard Street, Michigan City,
IN 46360, Great Lakes, USA
17th April 20XX
The CEO
Titan Eagle Groups and Co.
277-Eagle Heights
Re. An Excuse for Being Absent due to Funeral
Dear Sir,
It is submitted to your kind attention that I am Project Alliance Assistant in your company. I have been a regular and punctual worker from the day I joined. My profile can indicate the reverend authorities that I have been efficient and laborious throughout. I remained absent from the office for two days and could not inform you of the work. My grandfather passed away two days before and he was one of the closest ones around. It was saddening for all my family members.
He had a heart attack and died of it. After hospitalization, he was brought to his native town, Westminster, Vermont, for his funeral prayer and rituals. The late had his will to be buried in his Native area as he had a greater attachment and childhood memories with the town.
Due to this long process of taking the dead from the hospital to far-flung native area and performing his funeral and pre-burial rituals, I could not take a moment to inform the office about my absence. It was more sadness than negligence at my side. It took me another day to line up things after the funeral day.
When I came back to work, I was informed about your unexpected visit to the zone on the same day I was absent. Further, the admin told me that you were very angry at my absence as I was given a significant project to work upon. Considering my uninformed absence, you directed the manager to take that project from me and give it to Robert Jim. Sir, this project has a significant and meaningful role in my career's luminosity.
Sir, as I have explained you the nerve –wracking scenario at my side and I hope, it rationalizes, I seek pardon from you and hope you will give me a chance to be grateful to you.
Thank you.
Sincerely
(Signature)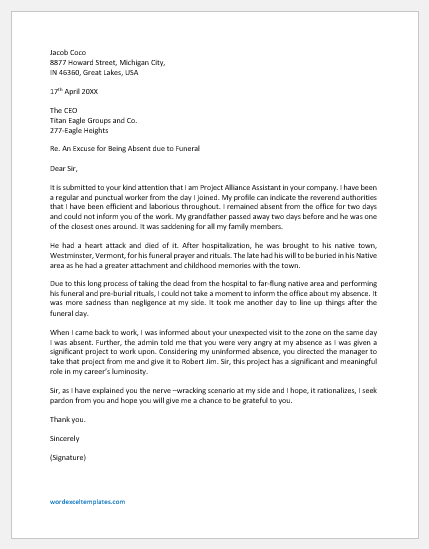 File: Word (.docx) 2007+ and iPad Size 21 Kb |
Download
---