What is daily work log?
Daily work log is a document which includes the set of activities that you have to perform each day. You can maintain all of your activities that you want to perform each day and it also regulates the work of the person.
The purpose of using daily work log:
The main purpose of using this log is to keep track of all the activities that a person has to perform each day. This document also serves as a record keeping that helps you see which task you performed on a specific date.
Benefits of using the daily log:
A daily work log can make the person set his goals that he wants to achieve each day.
The goals can then be monitored through the log.
You can also share your schedule with others to let them know about your routine. This can help you in making a plan with them.
You can also prepare yourself for a particular event. If you have a set of activities to be performed before the event, you can do it through the log.
It acts like a diary where you can note down anything that you need for yourself.
It increases your productivity by keeping you accelerated towards your goals
How to make the daily work log?
The most precious asset that any person can have in his life is time. It is very important to effectively manage the time. In order to save the time, you can enter your routine and schedule them in the template of daily work log. Also, assign a specific amount of time in which those tasks of routine should be completed. There are a number of events that you are required to plan. You can manage every task related to the event if you have this log template. The main details that you should include in the template are:
Time of the event
Date
Event name
Details of the coming event
The template saves a lot of time of the person and also enables him to download it free of cost.
Preview & Details of Template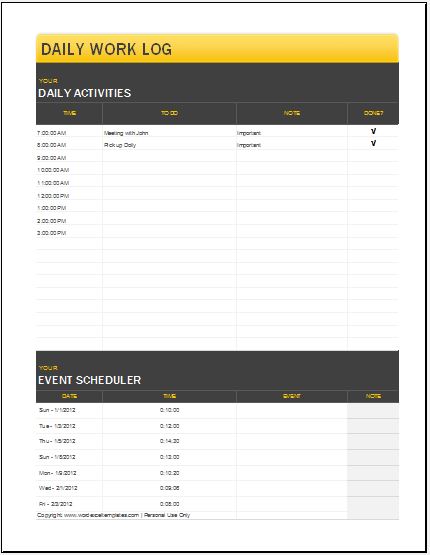 Daily Work Log Template
File: Excel (.xls) 2003+ and iPad
Size 43 Kb | Download
File: OpenOffice (.ods) Calc [Calc]
Size 12 Kb |  Download
License ENERGY [Personal Use Only]
[Not for resale & distribution]
---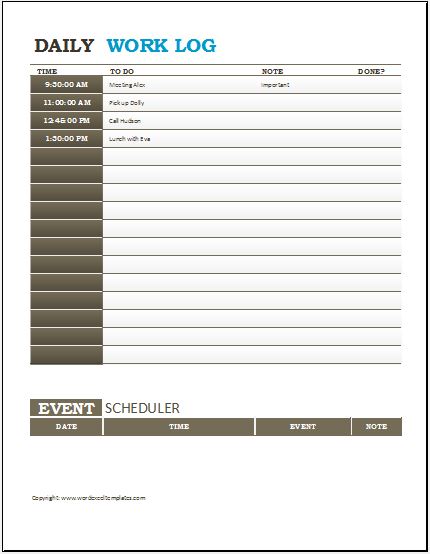 Daily Work Log Template
File: Excel (.xls) 2003+ and iPad
Size 43 Kb | Download
File: OpenOffice (.ods) Calc [Calc]
Size 11 Kb |  Download
License ENERGY [Personal Use Only]
[Not for resale & distribution]
---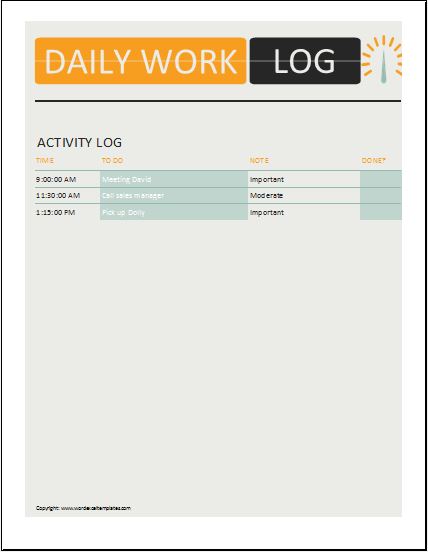 Daily Work Log Template
File: Excel (.xls) 2003+ and iPad
Size 43 Kb | Download
License ENERGY [Personal Use Only]
[Not for resale & distribution]
---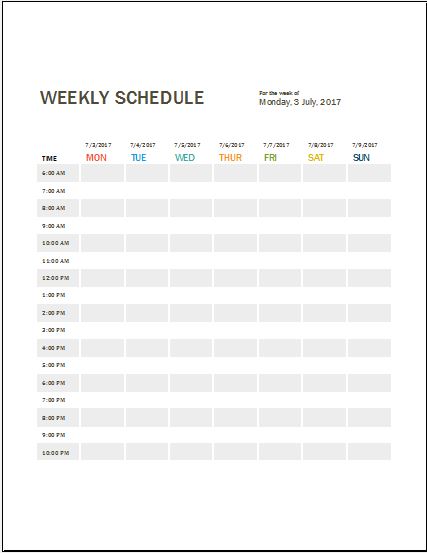 Weekly Work Schedule Template
File: Excel (.xls) 2003+ and iPad
Size 41 Kb | Download
License ENERGY [Personal Use Only]
[Not for resale & distribution]