Sometimes you realize that the job for which you have applied is no longer a good match. The interview request rejection response letter is required to be written when you get a call for an interview and you are no longer interested in it. The letter is used when you want to decline the request with politeness and courtesy. Writing a letter to reject the interview request in a good manner is the best way.
There can be many reasons which have made you decide to decline the interview request after you have submitted a job application.
Although the letter is very important to decline the interview request, there is no need to give reasons in the letter for turning down the interview request.
Since it is a formal letter, there is no need to add unnecessary details in the letter. You should keep the letter very simple because you may want to apply again for the same job or for another job post in the same company in the future.
It is important to introduce yourself in the letter and the job position for which you have applied. The letter should be ended with positive words.
You can thank the employer for calling you for the interview and wish him the best of luck in the future. It is important that you respond to the job interview request as soon as possible. This will reflect your professional behavior.
Letter
Dear Sir,
I hope you will be doing well. Thank you so much for considering my job application for the post of assistant manager of finance and inviting me for an interview. I applied for the vacant post of assistant manager of finance in your company dated [DATE]. In response to my application, I received the interview letter which has been planned on [date]. For some reason, I humbly reject this invitation for the interview.
I am informing you through this letter at the earliest so that you may consider another suitable candidate for this interview.
I am grateful to you for sparing your precious time and showing interest in my application. Thank you so much again for reaching out. I look forward to meeting you in the future.
Regards.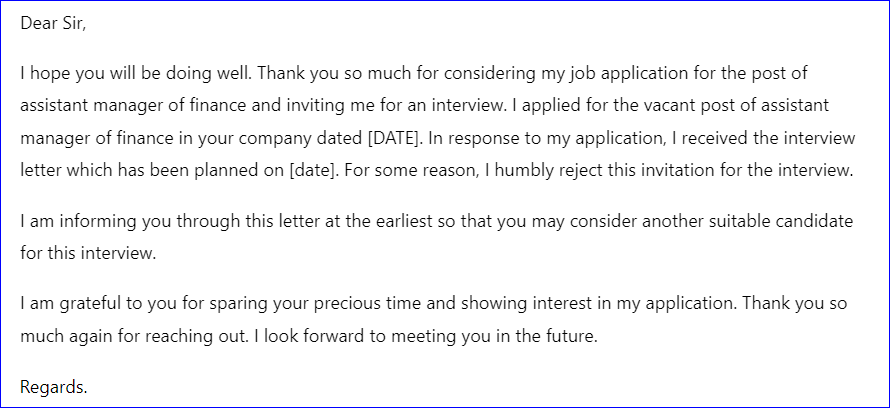 Sample
I would like to say thank you for the opportunity to interview with you. It was a great pleasure meeting you and all the people out there and learning about the organization. I am so happy to have had a good and informative meeting with you. I am much grateful to you for considering such an important job position in your company. However, I would like to withdraw the application which I submitted for getting the job.
I really appreciate you for taking the time for reviewing my job application.
Thank you so much again for your consideration.
Already Accepted Interview Rejection Letter to the Company
Thank you very much for offering me the position of [Designation] in your company but I have decided to accept the offer from XYZ firm which, I believe, will surely assist me to march toward my goals in the best way. No doubt your company is one of the most esteemed organizations out there, but I like things that are more challenging and chance friendly.
I am highly obliged to you for considering me for this job. I highly enjoyed your intellectual conversations and tactful questions during my interview which helped me a lot in making new perceptions of life.
Once again thank you for your time and thoughtfulness; best wishes for your nonstop success and I anticipate that our routes cross again in the future.
See also: