Job Responsibilities & Sheets
In order to complete the project on time with desired results, a project is divided into different tasks and each task is assigned to different stakeholders working for that project. The responsibilities which are assigned to each person in the company are enlisted in roles and responsibilities sheet. There is a separate sheet for each job position. The main goal of using this sheet is to keep everyone aware of his responsibilities and this also keeps them directed towards their goal.
The roles and responsibilities sheet is very useful in documenting all the responsibilities of each job position. This sheet has a main focus on a specific job position and its main purpose is to provide all the primary duties of a job position and competencies which are required to work in that job position. The scope of the job and its reporting structure is also identified when each and every duty and role related to it are mentioned in the roles and responsibilities sheet.
About Document
It is one of the major documents used in any company which defines the employee's role of the job and the complete understanding between the employee and his employer is also ensured. The information provided in this sheet relates the job with the job profile and the level of the person and it is important to define the job in the same way in which it is currently functioning. This sheet is also helpful when a company wants to evaluate the performance of the employees. The working of the employee can be compared with the set of responsibilities mentioned in the duties sheet which was assigned to him. The roles and responsibilities sheet also enables the person to set his goals and expectations. The roles can be followed in a better way when they are clearly defined through the sheet.
While assigning a set of responsibilities to a job position, there should be a complete understanding between the job manager and the employee. The job description sheet is prepared with the collaboration between the employee and his employer. The supervisor or the employer is required to provide the employee with the responsibilities sheet to make him understand completely about the job position for which he has been hired.
It is important to make the job description sheet very comprehensively so that nothing can be missed. Wrong or incomplete information can lead to misunderstanding about the nature of the job position and it can also delay the process of job review request.
The main details which are included in the duties and responsibilities sheet are the summary of the job position, primary duties of the person hired for that job position, the scope of the job, competencies required to fulfill the job responsibilities, responsibilities of supervisor etc.
The sheet should be prepared with great care since this document reflects the true nature of the particular job. There should not be any incomplete description about any role or duty.
Preview and Details of Template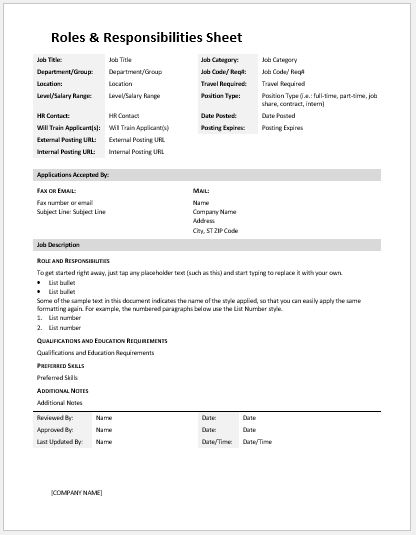 Roles & Responsibilities Sheet Template
File: Word (.doc) 2003+ and iPad
Size 34 Kb | Download
File: OpenOffice (.odt) Writer [writer]
Size 12 Kb |  Download
License: ENERGY (Personal Use Only)
Distribution by Kate Elizabeth(CEO)