1-
I am writing to notify you regarding the Christmas holidays. It's already December and you must be waiting by now for the most exciting time of the year. It is to inform you that company X will cease business dealings from 20th December 20xx till 1st January 20xx. All the services will resume from 2nd January 20xx. Online orders placed on or before 15th December 20xx will be delivered after 2nd January 20xx.
You are valuable to us; the online portal will be accepting your orders but they will be processed after the holidays. All the offices will be closed except for the office of security and vigilance which will be operational with minimum employees.
It's a time for great celebration, so enjoy with full zeal and zest but also maintain social distancing as COVID 19 is spreading rapidly.
I on the behalf of company X wish you all a very happy Christmas! Spread happiness everywhere.
In case you have any queries regarding this notification, I am available in my office for further clarification. You can also call us at our number X or write us at X. Looking forward to serving you again.
Merry Christmas
Regards,
File: Word (.docx) 2007+ and iPad
Size 28 KB
2-
On behalf of company X, I am being the CEO, wish you a very happy Christmas. I am writing to inform you that on the account of Christmas, the business will remain close from 25th December 20xx till the 1st of January 20xx. The services will resume as usual on 2nd January. All the manual orders will be processed and delivered if ordered before 20th December. The rest of the orders will be delivered after the holidays. You can still order online as our portals are operational however, the delivery will be made after the holidays.
I wish you a very happy Christmas, celebrate it with your family and friends. I am thankful to all of you for being a part of us.
If you have any queries related to this notification you may reach me in my office till tomorrow or may give us a call at X. You can also write to us at X. I look forward to serving you again.
Merry Christmas once again.
Regards,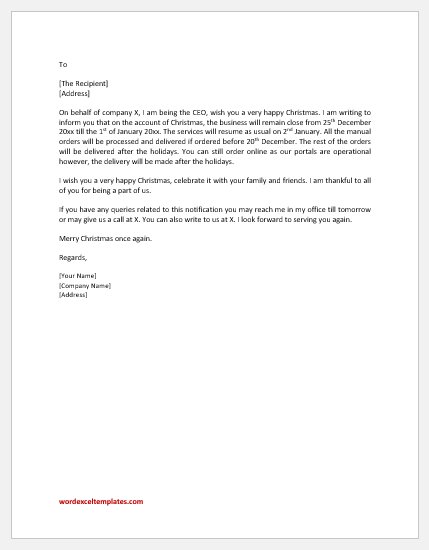 File: Word (.docx) 2007+ and iPad
Size 28 KB
3-
Dear Sir /Ma'am
I [title] [name] am writing to you on behalf of [Department name]. First of all, I would like to extend the season's greetings. We at [company name] realize how important family time is. Especially at Christmas but since this is also the busiest time of the year for us as a business, so we cannot shut down completely. Keeping these factors in mind we have formulated a working schedule that ensures that all our employees get to spend time with their family and friends and enjoy the holiday season without our customers facing any problems.
[Work schedule]
In case of any query or changes you want to request, please feel free to contact:
Mr. [Name]
[Title]
[Department name]
Phone: [number]
Email: [email address].
Looking forward to your cooperation,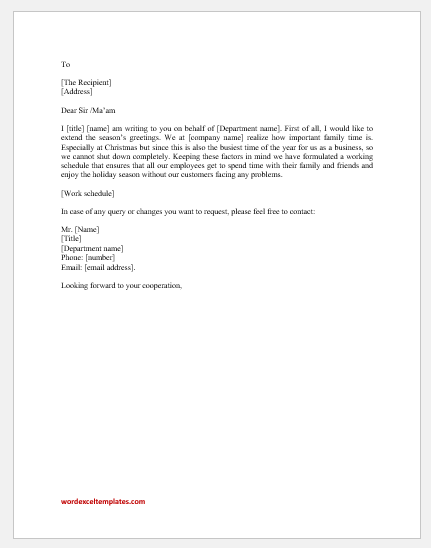 File: Word (.docx) 2007+ and iPad
Size 28 KB
4-
Dear Sir /Ma'am
I [title] [name] would like to wish you a very Happy Christmas. We at [company name] strongly believe in family values and the importance of family time on holidays. It is the time of the year when families come together for the celebration. We as a [name] business help everyone have a good time and make their festivities more joyous so this is the busiest time of the year for us.
We have decided that we will be completely shut down for 25th and 26th Dec. Before that from [date] to [date] we would shift to online working. And after 26th till [date], we would work with [number] percent workers per day. You can check your shift in the work schedule attached.
[Work schedule]
In case of any query or changes you want to request, please feel free to contact:
Looking forward to your cooperation and very merry holidays,
Yours sincerely,