All of us have to go to see a doctor often. There are a variety of categories such as cardiology, oncology, nephrology etc.
Many doctors use business cards in order to communicate their details with the patients. The use of the business card is an effective way for all those people who want to expand the business especially doctors who want to expand the range of services they provide.
This business card acts as a Mini brochure that is primarily used for promotional purposes. Whether you are practicing as a general doctor or as a professional surgeon, you are always required to use a business card for visually communicating your services.
How to make doctor business card?
You can add a full colored photograph on the business card that will represent your area of specialty and it will be helpful for your customers to remember you. The purpose of the photograph on the business card is to identify the cardholder easily.
If you are running a clinic or a hospital, it is important for you to mention the hours of opening in the card so that people can visit you easily.
In case you deal with emergencies, give a separate phone number where you will be contacted after opening hours in case of emergency.
The area of specialty should also be mentioned on the business card.
Include your personal details such as the qualification, association and a lot more.
If you have an appointment timeline, mention them on the card.
In order to promote your business, it is advisable to hand out your business cards to each client. One business card will be used by the client for contacting you and the other will be used to give away to their friend, neighbor or colleagues.
Tips to make a business card:
It is important for you as a doctor to ensure that your business card is capable enough to reflect your job. You should try to get the design of the business card that is most suitable for your profession. The design to be used as well as details to be added is very important for the success of a business card.
#1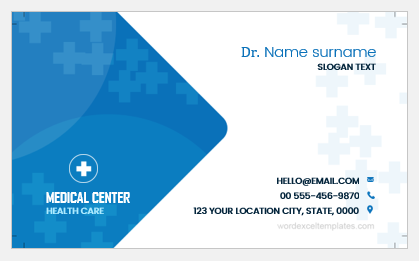 First on the list is a simple business card in blue. Having blue means a generic color that captures the attention of the audience. Using this card for being a doctor is a perfect choice as it brings cool and calm feelings on the receiver. Usually, doctors are associated with dealing complex problems of the people and in this situation bring calmness to the feelings of the people by presenting this cool business card. In the end a beautiful introduction card for all the doctors to download and print for them for free.
Dimension: 3.38″ x 2.13″
[For Word: (.docx) File: Personal Use Only] [Size: 88.0 KB]
---
#2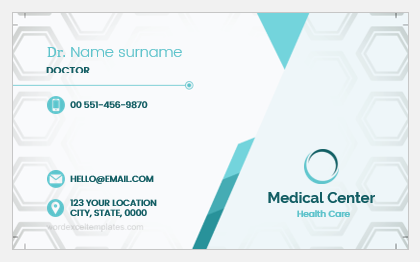 Being a doctor, you may not find enough time to visit the local market to design a business card for you. Although the possibility is there that you spare a couple of hours to visit the market. But, visiting online being at your office is not a big deal today. Yes, you can search for a lot of business cards online that suits your requirement. With this facility available on the web still there come some issues to own these business cards. Yes, it is the editing of the card. Most of the stuff available online may not be available in editing format so that you can personalize any card for the use. Being on this page facilitate you in two ways

1- You can download all or any one business card that you like from the list
2- You can edit all the details you can see on the card

Note: You will need to have MS Word software available with you to do the editing or in case of phone you will need to have Polaris Office.
Dimension: 3.38″ x 2.13″
[For Word: (.docx) File: Personal Use Only] [Size: 234.0 KB]
---
#3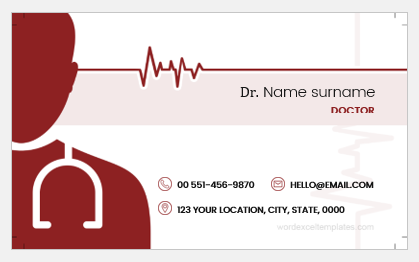 This business card has a typical look for the doctor's profession. The color scheme also reflects the same. Customize all the card with your personal information and PRINT. Isn't it fantastic?
Dimension: 3.38″ x 2.13″
[For Word: (.docx) File: Personal Use Only] [Size: 88.0 KB]
---
#4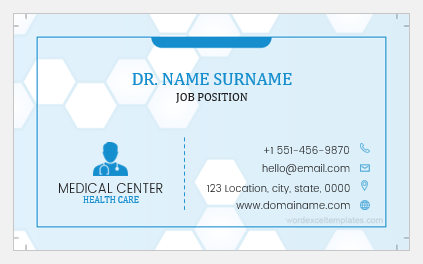 A simple business card for all the doctors. The card is simple, yet it has a place for all the information to be filled by the doctors. It saves time and saves ink for your printer. Try it!
Dimension: 3.38″ x 2.13″
[For Word: (.docx) File: Personal Use Only] [Size: 136.0 KB]
---
#5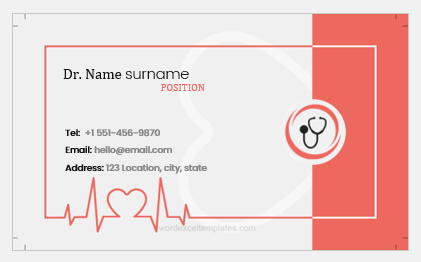 A beautiful design business card for doctors. That particular heartbeat graph speaks louder than words. Enter your name and introduction to make this card all yours.
Dimension: 3.38″ x 2.13″
[For Word: (.docx) File: Personal Use Only] [Size: 111.0 KB]
---