Be very careful if you're leasing your property or land especially if you're doing so for the first time. Lease agreement letter is a legal letter that helps you conduct a smooth and safe agreement process. Since you hand over your property or item to someone else, you should make it sure that it comes back to you safe and sound.
Leasing is basically an agreement almost like that of renting. The difference between the two is that renting is done for a short period of time usually for 30 days and after that the contract is automatically renewed whereas leasing is done for a long period of time and meanwhile the landlord cannot make any changes in the agreement until the agreement ends or is terminated by both parties with mutual decision. The lease agreement letter is sent to the lessee by the lessor.
In order to make your lease agreement letter proper, professional and fully legal try to follow these guidelines;
Write clearly the name of lessor and lessee.
Mention the details of the agreement and its terms and conditions.
Add the amount of lease properly
Specify how a lessee will have to compensate in case of any damage.
Keep the language of the lease agreement letter simple and clear.
You should make sure that your lease agreement terms are not violating any laws of your country.
For a lease agreement to be used as a legal document it is important to attest it from a notary public or attorney.
Always keep a duplicate of agreement with you as a proof.
If you're planning to lease your house but are confused about writing lease agreement letters, our samples are here to help you.
Text of letter contain
After your consent, I am now finalizing the agreement. This lease agreement will take effect from [enter date]. Note that in this whole period, neither you, the lessee nor I, the lessor are supposed to go beyond the terms and conditions of the agreement the detail of which has been mailed to you with the form.

The lease amount has been fixed to [enter amount] which you are supposed to pay by the [enter date] of every month. The agreement is for the period of [enter period] and the lease charges will not rise until a fresh agreement is made. As soon as the advance payment is received you'll be able to accommodate the land/house/ for lease. I would like to remind of the clause of the agreement form which mentions that the agreement form is a legal document and can be used as a legal proof if need arises. I hope such a need will not arise.

The agreement is hereby finalized on [enter date].
Preview and Details of Template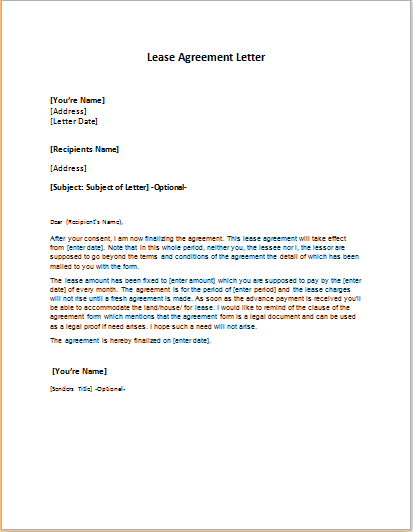 Lease Agreement Letter Template
File: Word (.doc) 2007+ and iPad 
Size 26 Kb   | Download
File: OpenOffice (.odt) Writer [Writer]
Size 11 Kb   | Download
License: ENERGY  (Personal Use Only)
(Distribution) by Kate Elizabeth(CEO)