Infant Breastfeeding & Data Trackers
Unlike the perception that breastfeeding every time feels natural, breastfeeding can take a bit of time to get used to. Although the mommy and baby have a special bond, it may take time on either side to get used to breastfeeding and adjust accordingly. Yes, it may seem scary and you may feel lost, but don't worry. After a few times and with the help of a breastfeeding tracker, you'll get a hang of it.
A breastfeeding tracker helps new parents in keeping track of the feeding activities of their babies. It is made in the form of a chart which documents the basic things such as what time the baby was being fed, from which breast was the baby being fed (was it the left one or the right one), the duration of the feeding and what mood was the baby before, during and after the feeding.
The things that need to be recorded should be recorded in separate columns to give it a neater and cleaner look. Make sure the mommy updates the breastfeeding tracker since she knows best of her body and her baby. The daddy can help but he won't be able to note down as accurately as the mommy.
Keep the breastfeeding tracker next to the table where you feed your baby so you can easily note down. In case you have any queries regarding breastfeeding your baby, you can easily show your pediatrician the breastfeeding tracker and he/she would help you better.
Preview and Details of Template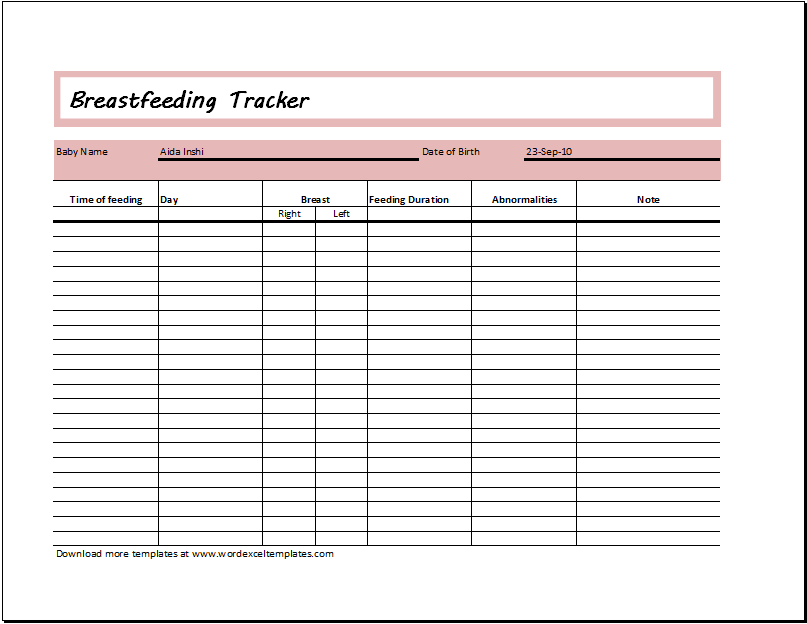 File: Excel (.xls) 2007+ and iPad 
Size 31 Kb   |  Download
File: OpenOffice (.odt) Calc [Calc]
Size 14 Kb   |   Download
License: ENERGY  (Personal Use Only)
(Not for resale & distribution) by Kate Elizabeth(CEO)