Baby's Stuff and Supply List
Your baby is your world and your bundle of joy. He/she has brought you so much joy and happiness in your life that you can't seem to comprehend anything else! To make sure that your baby is comfortable and is happy, you need to have specific things as supplies for the baby.
Babies need a lot of things that take care of their needs like baths, their everyday wear and etc. Everything needs to be in place so, at the time of need, there is no rushing to the baby store to get one thing at a time. It is best that you are prepared well ahead of time and make a baby supplies list that includes everything that the mommy and the baby might need.
Make certain that you start off the list before the existing supplies finish off or if you're making it for the first time, then make it a few days before their need arises. Your list can be divided into various subheadings or divisions to help to remember and listing down things easier. Divide the list according to what the baby will wear, what he/she needs for feeding, what he/she needs for bath time and what he/she needs extra. Division of the list will help in listing down things in an easier manner and would give it a neat look. This list can serve as a template for future uses as well and as time goes by, the needs of your child may grow as well. Keep on adding a thing every time its need arises!
Preview and Details of Template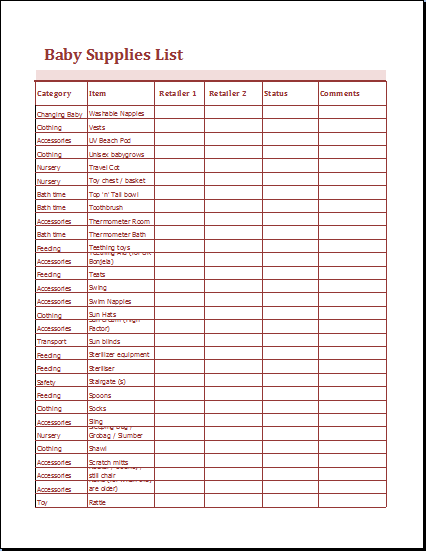 File: Excel (.xls) 2007+ and iPad 
Size 33 Kb   |  Download
File: OpenOffice (.odt) Calc [Calc]
Size 19 Kb   |   Download
License: ENERGY  (General Use)
(provided) by Kate Elizabeth(CEO)