Employees have many reasons to apply for a job transfer. Sometimes, they have to leave their job when they learn that they have to move to another city. However, if their company has a policy of job transfer, they prefer it over leaving this job and then applying for another after shifting to the new location.
What is a transfer request letter for taking care of parents?
A worker writes an application to his boss when he feels that he can no longer work in the branch of the company currently he is working in due to not being able to take care of old parents. This letter is a clear request to the employer to transfer the job of the employee to another branch of the company where the employee can not only perform his job responsibilities but also take the responsibilities of his family.
When to write?
When a worker has old parents and they cannot live alone, it becomes inevitable for the worker to live with them to fulfill their needs at this age. The worker does not have to leave the job because he has to take care of his parents. Rather, he can ask for the transfer. After all, a job transfer is better than leaving the job and then searching for another from start.
Writing tips:
Follow the following guidelines and write a convincing letter:
Appeal for the transfer:
Request the boss and let him know that you need to get your job transferred. Mention the location of the branch where you want your job to be transferred. It is important to remember that you can write an effective letter if you are capable of requesting in a persuasive way.
Give the reason:
Brief your manager about your rationale behind making this request. Explain to the employer that you have old parents and they are in the dire need of a caretaker. If the employer had parents, he would be able to relate. However, you should still do your homework and provide the reason in such a way that it sounds completely genuine.
Refer to the policy of the company:
You must have decided to write this letter after having known about the policy of the company that supports job transfer. Refer to that policy and make the manager know that it is completely normal for the company to approve this request and let him work in another branch.
Conclude the letter:
In the end, inform the manager that you don't want to leave the job because it would create lots of problems for the company and also for yourself and therefore, you have chosen the option of job transfer.
The sample letter given below can help you in writing a convincing letter.
Sample transfer request letter due to taking care of parents
Date:
From:
Name of the employer,
Address of the company, 
Subject: Transfer request letter for [X]
Respected (mention the name of the employer),
This letter is being written to make a humble appeal to you to transfer my job to another branch of the company. I have been working as a teacher in your school for more than 10 years. As you know, I live away from my home. My brother lives with my parents and takes care of them. Now, he has to go out of the station and it is expected of me to take the responsibility to take care of my parents.
I don't want to leave the company at this crucial time. However, it is inevitable for me to move back home. Therefore, I would like to ask you to consider my request to transfer my job to another city. This way, I will be able to perform my job duties and take care of my parents at the same time.
I expect you to read my request and consider it. If you want to know more about it, feel free to contact me on my office phone number. I am waiting for your reply.
Regards,
Name of the employee,
Department name
Designation in the company
Signatures
_____________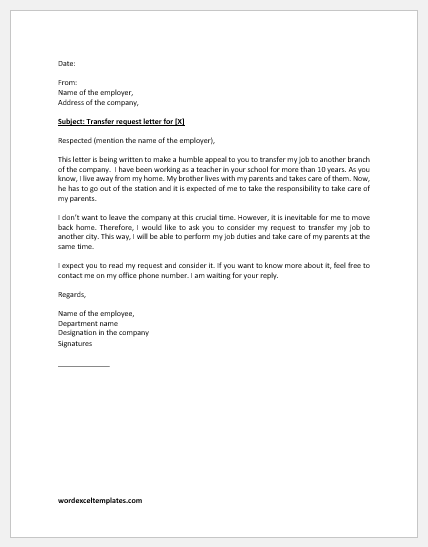 File: Word (.docx) 2007+ and iPad
Size 19KB