Every employee working in a firm or for an individual gets paid every month generally. This payment is his salary and it is his basic right to get this salary on a promised date. It is the responsibility of every company to release the salaries of every employee working in it on a specific date each month. In some very rare cases, the company does not pay its employees and rather, holds their salaries for the undefined time period.
What is the salary on hold email?
This is a piece of information that a company shares with its workers to let all of them know that they are not going to receive their salary this time on a specified date like before since the company has decided to not release the salaries.
When to write the payroll holding email?
There are many such circumstances when an organization has to take a tough decision like holding the salaries of the workers. This happens when the company is going at a loss and it fears it might need to make payments to prevent a full regression. Some companies also don't pay their workers fearing that they might face more losses if they run out of money.
Regardless of the situation, the company must inform its workers about this tough decision because uninformed blockage of salary can worsen the situation.
How to write this email?
Knowing how to write an email to announce the holding of payroll is crucial because your correct choice of words and tone can prevent the situation from getting worsen any further. Since the purpose of this email is to convince each and every employee into showing patience, it requires correct information to be placed in the correct places. Follow the tips given below:
Recognize employees for the work they have done for the company and let them feel that their efforts are being seen and appreciated.
Inform them about the fact that their salary will be released but a bit later than before.
Let them know why the company has taken this decision and also tell that the company itself is not happy on taking this decision and therefore, it wants to apologize to everyone who has not received the due payroll.
Emphasize the fact that the salary will be released as soon as possible and there is nothing to worry about.
The sample email is given below
Sample email:
Re: Salary on hold for [X]
Respected staff,
I hope that this email finds you well.
First, I would like to say thanks to all of you for being committed to ABC enterprises. I am so glad to say that the team of people in this company is very strong and works with its full potential. I am so amazed to see the performance of past few months in the company. Some of you have done a tremendous job. The team is also reflecting on the outcomes. Some of the team members have not taken even a single leave in the last few months. I am also feeling the luck to have such workers in the company who always show punctuality and regularity and also remain consistent in their work.
Secondly, it is being announced that the company is compelled to hold the salary of its employees for a few days due to some unprecedented circumstances. I understand the inconvenience it might cause to all of you. However, I apologize for this inconvenience. This decision has been taken because of a sudden decline in the stock exchange market value.
I am feeling too sorry to inform you about this however, I assure you that the company has no plans to hold salary for a long period and it intends to release the salary of every person as soon as possible. I am again apologizing to all of you for the problems that this decision has bought out to you.
I would like to say thanks to all of you for showing patience during this testing time. Please be sure that the issue will be resolved very soon.
Thank you for your cooperation.
Regards,
Name of the sender.
Designation of the sender in the company.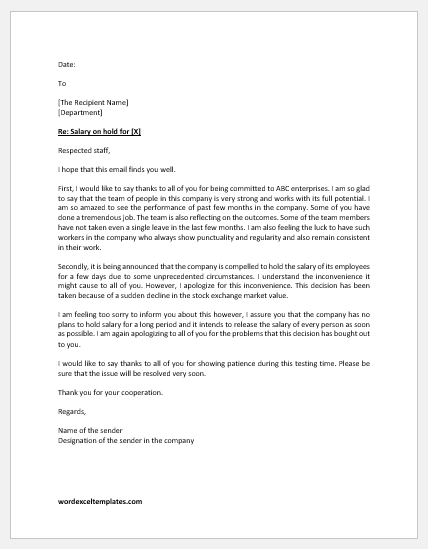 File: Word (.docx) 2007+ and iPad
Size 21 KB