You must be fishing for an opportunity to write a tender proposal and you might be thinking writing a bid is a piece of cake. However, when you practically start writing a proposal for a targeted tender procedure, you realize that it is hard to write a proposal that stands out.
No matter how challenging it is to write a proposal, you can never get a new contract unless you put down a professional-looking tender proposal.
How to write a description in the proposal?
Everyone knows details are required to be mentioned in the proposal. However, still, they don't do it right because they forget various aspects about giving descriptions. Some of those aspects are:
The language of the proposal should be simple and easy to understand. You don't need to use technical language just to show your knowledge and expertise. Simple language with a prudent selection of words can also work.
There is no need to give those points that add no value to the bid. For instance, while trying to prove your potential to add benefits to the entire project, there is no need to talk about your credentials and try to remain focused on project related benefits.
Try to make sure that description regarding everything is given in a brief manner.
What is a tender proposal?
A tender proposal is a business document that is used by a vendor or a contractor in order to show his intent to bid for a procurement process. The outcome of this proposal can be in your favor if you manage to write it in an efficacious way.
Tips to remember:
Every person struggling with writing a proposal should keep the following tips in mind to helpful himself:
Know about the entire tendering process:
No matter what kind of proposal you write, you should always know what you are going to target and then try to determine ins and outs of that particular project. Similarly, when you are going to make a bid, make sure that you are well aware of the entire process. This way, you will be able to know when it is the right time to submit your bid.
Read the tender contract cautiously:
One of the biggest challenges that a person has to contend with while writing a proposal is content. It is a basic requirement of a proposal to write it with all those areas covering which can help you win over your client. For this purpose, you should reread the entire contract of the tender again and highlight the key areas. Read all the instructions also so that you can outline the proposal according to the preferences of your contractor.
Try to raise relevant questions:
After you have read the contract details, you are in a better position to make your bid. However, the advertisement of the tender generally does not clear all details. So, there might be some questions in your mind that you might want to raise. This way, you will get more understanding of the tender and you the client will also see your interest in the tender.
Try to answer various questions:
Some requests for tender proposals clearly ask some questions and on the basis of answers to those questions, a decision regarding accepting or rejecting a proposal is made. So, you should be able to answer all those questions. Don't try to write long answers as the client might lose interest. Try to provide your answer in one line if possible. This shows how clear you are while answering those questions.
 Have your proposal reviewed:
Once you have compiled the complete proposal, it is high time for you to send it away. However, there might be some errors that you want to be removed. It is better to ask someone to read your proposal and then review it. This way, you will be able to find mistakes.
Submit your bid:
This is the most important information that the client generally wants to read. With this part, the client comes to know how much you are ready to pay on the contract you are bidding for. Make sure that your proposal is coherent with the request for proposal.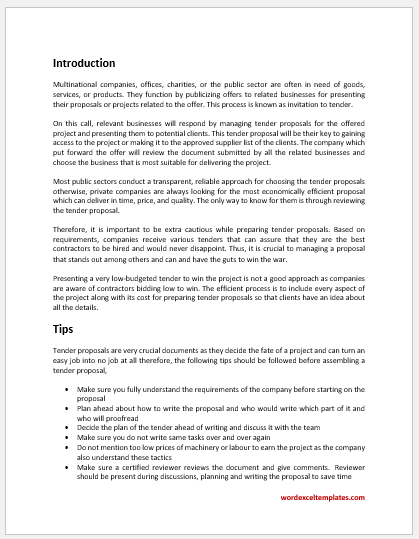 File: Word (.docx) 2007+ and iPad
Size 28 KB