A workplace is restricted to many limitations on behalf of values and principles. The common law of justice must be enforced in all the sectors, businesses, and organizations etc. of the country. Fair treatment at every level is the first and foremost requirement since the world came into existence.  The injustice of any kind leads to failure of society. The society where justice and laws are not given any value is always under crises.
Likewise, a workplace is obliged to provide a just and fair treatment from the top management to the bottom. If unfair treatment is seen, the employees always raise their voice. And when the raised voices are muted by the management, the last option leads to resignation. The resignation can also adversely affect the organization's profitability and reputation.
A resignation letter due to unfair treatment comprises of many situations like:
When an employee feels discrimination because of the age factor.
When an employee is treated unfairly due to some natural disability.
When unfair treatment is seen regarding promotion due to favoritism.
When unjust treatment is given due to belief, race or religion.
Hence, a workplace must avoid such unfair treatment and if found a strict action must be taken. The resignation letter of unfair treatment includes the date on which the letter is written, names of the employee and departmental manager, company name. Moreover, the reason must be stated concisely and truthfully. The last day at work should also be highlighted.
A sample is attached here.
Sample Letter
This letter is to inform you of my decision that I want to resign from my position as a [mention designation]. I am here for the next two weeks as per my contract letter so that you can find my replacement meanwhile. The reason for my resignation is that I found the authorities quite unfair and completely biased. Despite my excellent work and the completion of every project on time, I have been badly ignored when it comes to promotion.
My work is highly appreciated all the time, but I am not rewarded for that. So, I want to work at a place where my efforts and enthusiasm would be appreciated the way I deserve. Though my time here was not a total wastage; I learned a lot by working with the experts and I am highly obliged for that. On the other hand, if any difficulties should arise, you may contact me at the given number. I will happily respond to you.
Sincerely,
Preview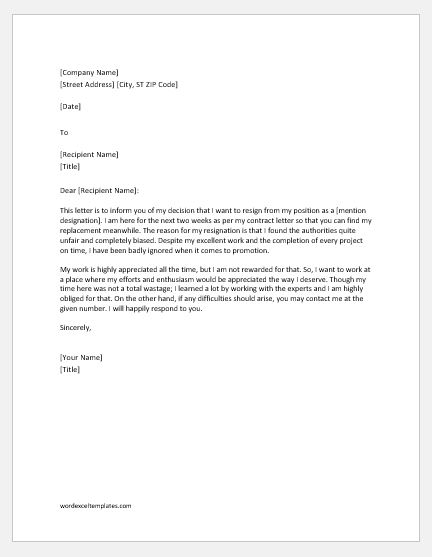 The letter template
Format: MS Word [.docx]
Options: Download