There are many such situations when we are compelled to make requests to our boss to allow us to work from home. Working from home allows us to focus on our personal as well as professional life simultaneously. Sometimes, we want to work from home because our presence is required at home and we cannot compromise our work life also.
In many countries, employees are given the right to go on paternity leave. However, sometimes the husbands need to stay at home because of some other reasons and they cannot apply for paternity leave. In this situation, they can request their boss to allow them to work from home.
What is a letter to request to work from home for helping my wife?
This kind of request letter is written when an employee feels that he should be with his wife to assist her in handling kids and performing various house chores.
When to write this request letter?
The concept of marriage is based on the togetherness of two people while dividing the responsibilities of life. This balances life and results in a smooth life cycle. Oftentimes, husbands are required to stay at home with their wives when they realize that their wives cannot fulfill their responsibilities due to any reason. For instance, right after the birth of a new baby, the wife requires someone to be with her who can take care of her kids while she is busy pampering her new baby. When she finds no one, her husband can take a leave from work to cooperate with her.
The husband can also write this letter when the wife is going through some kind of sickness and cannot take care of the kids alone for some time.
How to write?
Writing a request letter is something that a person needs to do more carefully because if the request is put appropriately, it can help him reap fruitful results. There are some tips given below that can be followed for writing an effective letter:
Discuss all the possible concerns:
Before you put this request, you should be aware of all those concerns that might be bothering your boss. After receiving this request letter, he might question your abilities to remain productive while working from home. So, come up with your plans as to how you will maintain the level of productivity your employer expects from you and how you will fulfill all the responsibilities when you are not physically present in the office.
If you are intended to put all the concerns of your manager at ease, you should
Detail the schedule of your work from home
Solutions to various problems related to the security of the information sharing
Description of your job goals and responsibilities
The methods you will use to collaborate with your co-workers who are present at the office
Remain specific
This part of the letter requires you to give the reason as to why you want to work from home. Try to be specific as much as possible. This will keep your letter easy to read and understand while allowing you to communicate your message appropriately at the same time.  
Consider the nature of your employer:
As an employee, you should be aware of the nature and personality of your supervisor. This will help you draft the letter in a better way. For instance, if you think that your boss is not easy to convince, you will be required to put more effort into convincing via this request letter. To convince your employer, you can tell him some benefits of working from home.
Take obstacles into consideration:
Working from home when no one else in the company is practicing can be a little challenging. There can be lots of obstacles that you will be required to overcome to work from home. Keep all those hurdles in your mind while you put forward this request. When you identify all the obstacles and then address them in the letter and provide their solution, you prove that you are someone with a professional approach who doesn't consider his problems and benefits only.
Sample Letter
Recipient's Name,
Address,
Date
Dear (Name of Recipient),
I would like to request you to allow me to work from home so that I can help my wife with the kids. We are facing some problems at home and cannot hire a nanny or babysitter.
I would be grateful if you will allow me to work from home on (date of days). It will help my wife and her health. She is stressed out due to the hectic work. Whenever you need me in the office, I assure you that I will be available. I hope to maintain the standard of work ethics in the office.
I will be reachable via (state the methods of communication) when I will work from home.
I hope to get a positive response.
Best Regards.
(Your Name)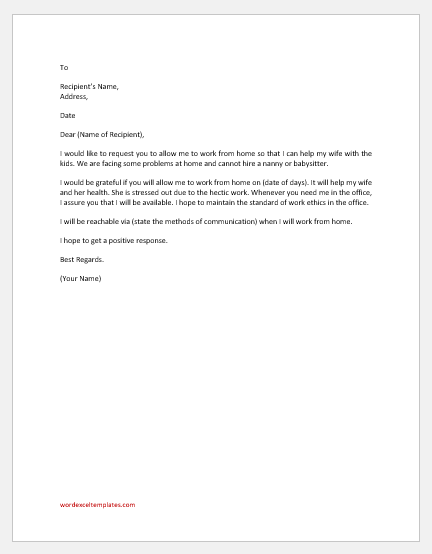 File: Word (.docx) 2007+ and iPad
Size 28 Kb
Download
---