The advanced technology has provided ease to the individuals in numerous ways around the globe. Among these parameters, one better solution of keeping money safe is a bank.
Banks have provided ease in countless ways to keep money and assets safe. Additionally, various finances are also helping people to invest and earn a profit. These all things can be done through an account.
The bank account is the main formality with which one can get facilitated with various services. The bank account needs authentic information like complete name, present and permanent addresses, and contact numbers etc.  Various situations can lead to a change in account number depending on scenarios.
An account number change request is done by the account holder. The account holder sends a letter to the concerned department for a change. Depending on the nature of the reason for the change; the department guides the account holder accordingly. The best possible solution is given like either it should be changed or a new one should be made. The request letter must contain the title of account, account number, account holder's signature, contact number and the reason for the change request.
The types of account numbers are being requested to change due to several reasons. These reasons are as follows:
If deduction charges are high as compared to other banks.
If loan charges are very high compared to other banks.
If customer care center does not promptly respond to complaints or customer representatives are rude in behavior.
If salary is uploaded late as compared to other banks.
Once a request is accepted; a concerned officer is launched for guiding and processing the change of account. The procedure to change the salary account has different formalities which are as follows:
A recent salary slip is needed.
Complete information of current account is needed.
A National identity card is needed.
A "No Objection Certificate" from the previous bank is required.
An authority letter from the company where the applicant is employed.
The account holder sends an appropriate letter to the Human Resource department to inform about the changing of account. The letter contains the request to change the account and the complete details about new account are properly highlighted.
The letter is always sent to the concerned employer regarding account change. This is important so that the employer can easily upload the salary in the new account. And, the employee should inform about this change beforehand to avoid any mismanagement in the future.
A sample letter is attached as follows:
Sample Letter
Dear Sir/Madam
It is hereby informed that my account number has been changed. The previous bank's processing was below standard, and I was facing many issues, so I decided to change my account. My new account number is [account number]. The bank name is [bank name]. The branch code is [branch code].
I shall be very thankful to you for the update confirmation letter. Please feel free for any further query.
Regards,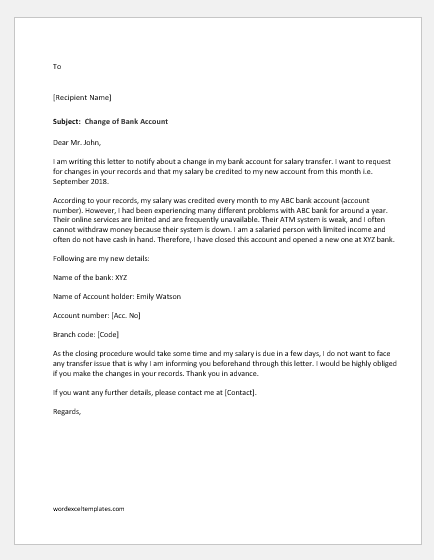 Format: MS Word [.docx]
File Size: 23 KB | Download
---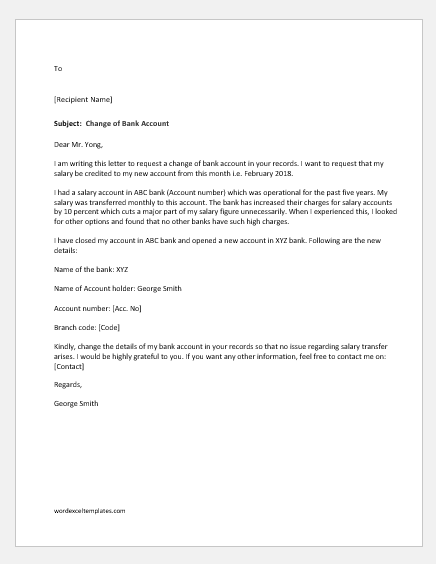 Format: MS Word [.docx]
File Size: 21 KB | Download
---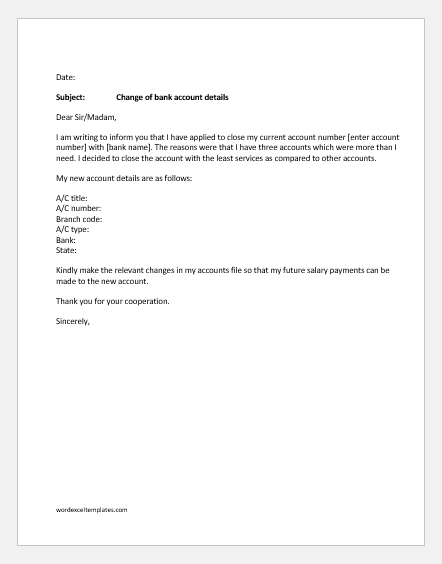 Format: MS Word [.docx]
File Size: 24 KB | Download