Business activities involve many ordering and delivery services. Sometimes, issues arise with such orders and deliveries. In such a scenario, a company writes a letter to the shipper and informs about the order issues. The shipper or vendor may be an individual person or another company.
This letter is a formal documentation which serves as a notification about the problem to let the shipper know about it as well as take the corrective action. When an order is placed and received, different issues might arise such as:
The shipment is incomplete.
The shipment is incorrect.
The shipment is damaged/broken.
The company, then, writes a letter to the shipper and provide details of the shipment issues. The general format of the letter is:
Date
Details of the company.
Details of the shipper.
Issue/issues with the shipment/order.
Ask for the corrective action.
If required, withhold the payment and inform the shipper about that.
If required, specify the consequences if no corrective action is taken by the shipper.
Statement to show a good relationship or building a future relationship.
The tone of the letter needs to be professional. The letter needs to provide all the details and inform the shipper yet, it should not be written in a condescending tone. Companies usually have on-going requirements and need to build relationships with different vendors. At the same time, if the order is incomplete, the company cannot bear the cost and have to request the shipper for the correction. These things are very important to keep in mind while writing the letter to the shipper to serve as a notification about the incomplete order. This letter may be kept in the vendor file for the future order decisions.
Sample -1
This letter is with respect to the deliverance of writing tables as ordered by our company. I am sorry to inform you that the delivery was not in accordance with what we had ordered. We had placed an order for 10 writing tables but have received only 8 of them. Please dispatch the remaining 2 tables at your earliest. Thank you for your co-operation.
Sample -2
This is to bring in your attention that our order of 20 tea sets dated 22nd July was incomplete. Five of the tea sets received by us have missing accessories. The rest of the order is fine. We are duly sending you back the incomplete tea sets. Enclosed is the list of items missing in each respective set. Please dispatch us the remaining sets.
Sample -3
This is to inform you that our order of 30 school shoes was received incomplete. The shipment did not contain even the half of what we had ordered. We were surprised by this as it has never happened before. Please dispatch us the remaining shoes as we are already ahead of time. Thank you for your co-operation.
Sample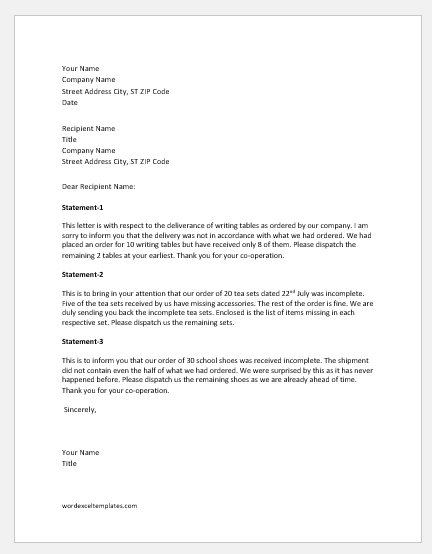 File Format: [.docx]
File Size: 19 KB
Download
---
Notification letter to customer for missing delivery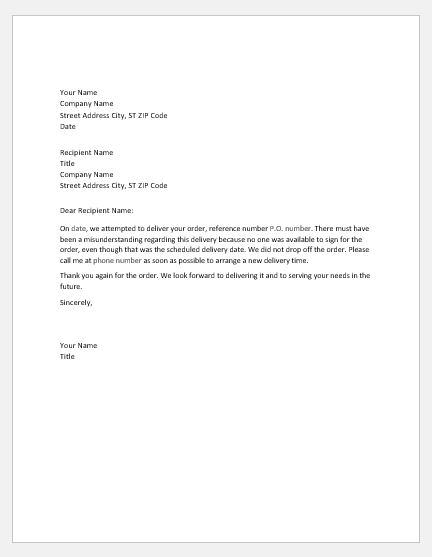 File Format: [.docx]
File Size: 19 KB
Download