A request letter for a provisional certificate is an academic letter written to the principal or head of the department or any other authorized person by a student. In this letter a student requests the authorities to issue him a provisional certificate so that he can proceeds with further studies at another institute until the original degree is awarded.
The provisional certificate certifies that the holder has completed the said degree and has been graduated.
A general provisional certificate shows two things;
one is a detailed mark sheet of the student in which it is shown that the student is graduated and has acquired the certification from the specific school/college/university and second is
clearance of all the dues or penalties.
The purpose of the provisional certificate is to utilize it till the issuance of the original degree which is in most of the institutions issued later after the completion of the degree.
The aim of providing a temporary provisional certificate is to make sure that the students can pursue higher studies or can search and apply for a job. Its sole purpose is to substitute the original degree and facilitate the students to overcome all the obstacles to getting higher education or a job.
Provisional certificate is of temporary nature and validates from three to six months usually. After the issuance of the original degree, a provisional certificate does not remain valuable. The provisional certificate also helps the institutions to keep a record of the students who have been passed from the institution.
Following is a sample of a request letter for a provisional certificate.
Sample Letter
John Dough Bea
2897 LC Square Street, Manchester, UK
20th April 20XX
The Head of the Department
Department of Filming and Advertising
The Chars College of Filming and Acting
2389 Jams Knight Manchester, UK
Re. Request for Provisional Certificate
Dear Sir/Madam,
It is submitted to your reverend attention that I am a student of the department of filming and advertising doing masters in the session 20XX-XX reg. number [X]. I have been declared passed and there are no dues or penalties credited in my name. Now I want to go abroad for higher studies. To get admission in any other college or university, I have to show the proof of my preceding degree. No college or university allows admission without the last degree certificate.
Sir/Madam, I want to get admission in the spring session of 20XX for which I must apply for admission as soon as possible. By the end of this month, all admission dates will be due. Keeping in view my situation, I hereby request you to give approval for the issuance of my provisional certificate of the degree so that I can get admission without any obstruction or time lag. All the attested copies of the required documents have been enclosed with the letter. I shall be grateful to you for this. Thank you in anticipation.
Sincerely
(Signature)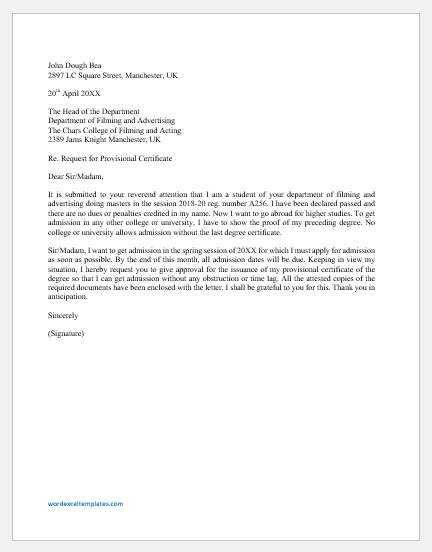 File: Word (.docx) 2007+ and iPad Size 21 Kb |
Download
---