When someone wants to purchase land, they often have to write a proposal to the land's owner in an attempt to make an offer. Due to this, the proposal written for purchasing land is known as a real estate offer letter.
What is a proposal letter to purchase land?
Sometimes, our boss assigns us the task of finding land for the construction of an office for him. We look for different lands and then write a proposal to make a bid. If the land is at an ideal place, there might be lots of people who are ready to purchase that piece of land. To convince the owner of the land to sell his property to you, you are required to write a winning proposal. In this proposal, the potential buyer shows he intends to purchase land for the office of his boss.
Why write an offer letter for buying real estate property?
When you are on the lookout for land that can be used for the construction of a workplace, the owner of the land should be told about the purchaser's intention. There cannot be anything better than an offer made by a purchaser when he is interested in buying a property from the seller.
It is very important to keep this fact in mind that writing a proposal is not just about making an offer and letting the owner know about your intended. There is so much that goes into it. There can be different situations in which you have to write different proposals. Sometimes the situation demands you to write a proposal so tactfully. This entails the need to write the offer with the correct format and needed content.
What should an ideal proposal letter for a boss's office land cover?
To write a captivating proposal, you must ensure that you have added all the necessary details to it. Since it is not a legal document, there is no hard and fast rule as to what details to put in it and how. Just make sure that you have enabled the reader to know maximum things about the offer you are making.
Give the summary of the proposal:
The summary is the first component to be looked for and to be read after the title. Therefore, it should get enough attention. Here you should tell the reader about your need to purchase this land and the workplace you want to build on it. Some readers want to know your purpose in buying the property because they might be insecure about the use of the land.
Some sellers sell commercial land and want that to be used only for commercial purposes. So, your proposal should specify why you want to buy the land you are making an offer for.
Put forward the terms:
There are always some terms to follow whenever land is sold and purchased. As a purchaser, you can come up with some conditions that think are beneficial for the seller as well as for the buyer. If you can convince the reader that the conditions you are specifying are useful for him, you will win over him.
Specify initial Money deposit amount:
The transaction of the sale amount of land is usually carried out in several installments. You should inform the reader as to how much you will pay initially.
Mention the expiry date of the offer:
If your offer is for a limited time period, mention the date by which it will be expired. This will also help you in giving a call to action to the reader.
Give a call to action:
This is where you tell the reader what he is required to do. Some people directly ask the recipient to give consideration to their proposal and ponder on it while some people ask them to contact them for further details and provide their contact details.
Add appendix section:
You must be having many documents to attach with the proposal such as the map and architecture of the office you want to build, attach them and then mention them in the appendix section to make it easy for the reader to locate them.
Sample Letter
(Your Name)
(Company Name)
(Your Address)
(Date)
(Recipient's Name)
(Recipient's Company)
(Recipient's Mailing Address)
Dear (Mr. Mrs. Ms. Last Name)
Our team at (your company name) had discussed with you the opportunity to buy land for our boss's office on (date). We hope to start working on this initiative with you.
On (date) we discussed the different issues arising with this. We had a look at this land on this date. The amount we can give for the land is (state amount). If you want to adjust it in any way, please feel free to contact us.
Sincerely,
(Your Name)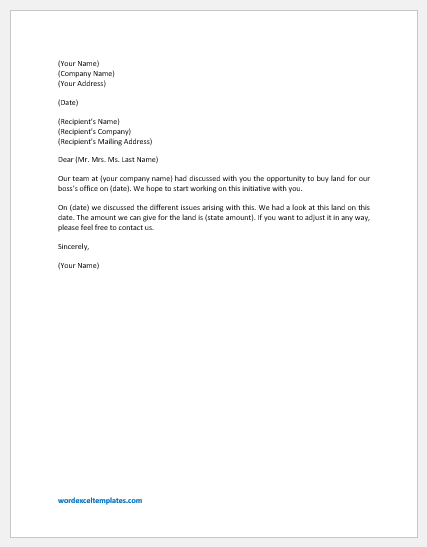 File: Word (.docx) 2007+ and iPad
Size 28 KB