What is a leave message?
When an employee feels the need to ask his/her employer for granting the leave, he/she can write a leave message. Although this is a message, it also serves as a request letter or an application to the boss.
When to take the leave for the exam?
Many students work along with studying. So, when they have to take the exam, they will be required to ask their boss to accept their leave application. The purpose of this message is to make a request. Sending a message to the boss is not a formal way to ask for a few days off from work. However, we type the message when we think that writing the letter or application will make us wait for a long time to get a response from the boss since people are not so quick at reading request letters or applications and are more responsive to text messages.
What is the advantage of writing the message to the employer for the exam?
A student working in a company can also write an application or send a formal letter of application. However, he chooses to write the message because:
Writing the message enables the employee to get a quick response from the boss
The message is easy to write because there are no formalities that need to be taken into consideration such as knowing the format, typing in a professional tone, and whatnot.
The message does not waste the time of the employee in drafting a formal document of request.
When they inform their boss about the exam, the boss does not burden them with the work to be done at home while they remain absent from work
Writing the message to the manager makes him think that you have shown concern by sending a message when you had very little time to make this communication happen
Why it is important to send the leave message to the boss for the test?
When a person has to take an exam, he will need some time off that he can utilize in preparing for the exam and taking the exam. At times, people don't request leave when they have to do exam preparation. However, they are compelled to ask for permission to remain absent from work because the time of the exam clashes with the working hours.
All those people who need to remain away from work while they take their exam must let their boss know about it. This helps them take the exam with peace.
When you have little or no time and you cannot waste your time writing a letter or application with lots of formalities, writing a message can be helpful.
How to write a convincing message to the boss?
When you think of asking your boss to provide you with the leave, you are not sure if he will accept it or not. However, it is required for you to try your best to make sure that the message is convincing. Follow the tips given below and draft a message that will bring your employer around granting you the leave.
Inform your boss about the exam that you are required to take. Mention the program you are enrolled in. Although it is not mandatory to tell that, sometimes giving this information helps you in convincing him
If you are asking for leave for taking the exam, mention the date and time of the exam to let your boss know that there is a clash between your exam timing and office working hours.
Tell your boss how you have always been a diligent person who has never taken off from work unless it is very urgent.
Express your expectations from your boss in this regard
Make sure that your message is short and concise because this is what a message is like. You cannot load it with lots of information just because you need to take a leave. Write things in a precise way and write only what you think is necessary to be communicated.
Seek help from available message templates or draft the message on your own with the help of the tips given below
Sample Message (Letter)
To,
The Manager (their name)
(Company Name),
(Company Address),
Subject: Leave for Exam Preparation
Dear (Mr., Mrs., Ms. Last Name),
I would like to inform you that I am (your name) working in a (position) in your office.
Right now, I am also taking some classes related to (your future degree) and my exam will be starting next week (day and date). Therefore, I will need to have a (how many days or weeks) leave for preparing for the exam.
It is requested to give me leave for this time from (start date) to (end-date).
After my exam, I will try to be regular in the office. I will be grateful if you can grant me this favor.
Yours Sincerely,
(Your name)
(Job designation)
(Contact Number)
(Signature)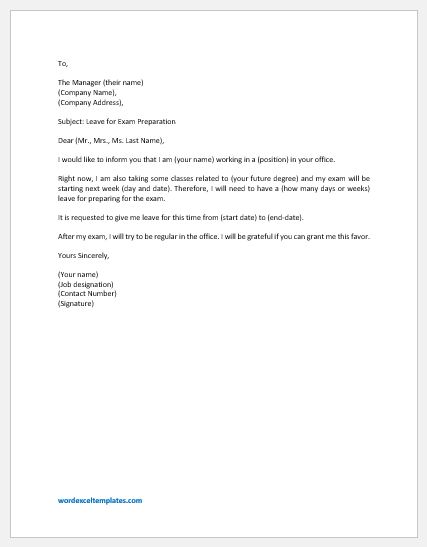 File: Word (.docx) 2007+ and iPad
Size 13 KB