Different organizations like to train their workers so that their skills and knowledge regarding their job remains up to date. Employers want the employees in the company to take part in ongoing training so that their skills are updated and useful for the company. Due to this, different training workshops are organized. Professional trainers also target such companies that want their employees to be trained.
What is a proposal letter for a training workshop?
A proposal letter includes a formal offer from a trainer or a training company to an organization and asks them to let them organize a workshop. In the workshop, there are different training sessions and each session is started with the motive to train people.
People who write this letter are generally professional and they have a full team of experts who have the expertise to train people in their respective fields.
How to write a proposal letter for a training workshop?
A proposal letter is a formal offer in the form of a letter in which the sender makes an offer to the recipient. Those who write this letter are professional trainers and they try to ensure that the offer is attractive to the recipient. Here are a few tips to follow:
Give a brief introduction to the training company:
Your proposal letter should be started with an introduction to your company because no one is going to accept your offer if they don't know who you are. Give a short overview of your company that lets the reader know what your company is about, what kind of training your company provides, the team of professional trainers you have, the profile of different subject experts, and much more. Make sure that you tailor the proposal letter according to the company you are targeting.
For instance, if you are targeting an educational institute, try to provide information about the different educationists you have in your team. Describe the moral values and ethics you have instilled in your team. If you have space, you can also state how much your training team is overall qualified. 
Description of training sessions:
Every training program involves one more training session depending on how long the workshop will continue. You should describe the training session. Describe how many sessions will be conducted, the duration of each session, plans you have made regarding the knowledge sharing in each session, and everything that you want to share with the recipient regarding your sessions. Also, state the technology you use while delivering the training program.
Describe how your services can be rendered:
Once you have described the coaching services you provide, describe how these services the reader can get. If you sign a contract with the reader, you should describe how the contract is made and which clauses you would like to add to it. Also, mention how long the contract will remain functional. If the duration and other details of the contract can be changed later, you should specify them in the letter.
Payment description:
The workshop training program's payment details will let the reader know how much you will charge in case the reader agrees to get your coaching services. Also, describe whether the payment will be made in installments or one-time payments. You can also mention the mode of payment that your company accepts.
Mention how the training session can be canceled.
The letter should specify how you allow your clients to cancel the session if they don't like it. This will make the client feel happy and free in terms of what they decide and they are more likely to accept your offer if they learn that they can get out of the business relationship whenever they want without any binding or obligation.
Address your expectations:
Just like any other letter, you should end the letter by addressing your expectations from the reader. You can be direct and straightforward here as you will not have another opportunity to explain what you want the reader to do after reading your offer. You can give a call to action and provide your details where you can be contacted in case they want to know more about the offer you have made.
#1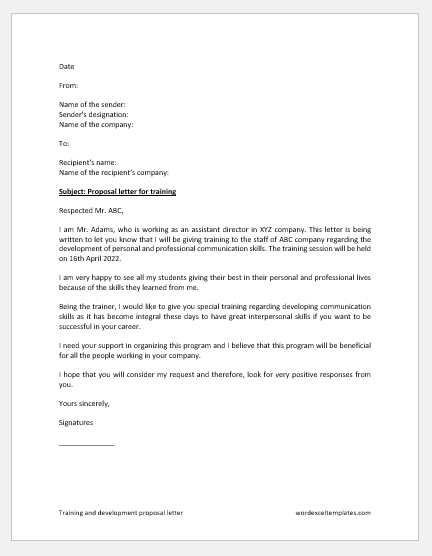 File: Word (.docx) & iPad
Size 23 KB
#2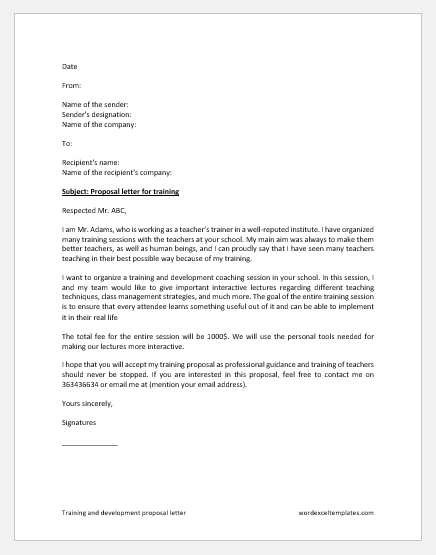 File: Word (.docx) & iPad
Size 23 KB
See also: