What is a training proposal letter?
It is a formal letter that a trainer writes to offer his training services. The proposal lets the reader know that there is an opportunity for him to get training from a professional individual.
Why write a training offer letter?
Individuals seeking an opportunity to train others and get paid in return often present their offer in the proposal letter. Without writing this letter, the trainer can never let other people know about his availability as a coach. Those who are already looking for a coach find this letter useful.
Writing a training proposal letter…
If you keep the following points in your mind, you can easily draft a letter that will convince the reader into accepting your proposal:
Give your introduction:
In the beginning, you should give your introduction. Your introduction should be such that it can develop the interest of the reader into you. This should include your coaching experience.
Discuss the importance of the coaching:
Some people don't even realize the importance of getting training. They need to be told that they cannot grow if they don't get the necessary development classes. You should discuss how integral it is for them to get training. 
Give details of the coaching session:
Since you want to start a session with the reader, give details of that session. Inform the reader about the total number of classes he will have to attend. Information about people who will deliver the lecture and the total duration of the entire session along with the learning outcomes.
1.
Subject: Proposal letter for training
Respected Mr. ABC,
I am Mr. Adams, who is working as a teacher's trainer in a well-reputed institute. I have organized many training sessions with the teachers at your school. My main aim was always to make them better teachers, as well as human beings, and I can proudly say that I have seen many teachers teaching in their best possible way because of my training.
I want to organize a training and development coaching session in your school. In this session, I and my team would like to give important interactive lectures regarding different teaching techniques, class management strategies, and much more. The goal of the entire training session is to ensure that every attendee learns something useful out of it and can be able to implement it in their real life
The total fee for the entire session will be 1000$. We will use the personal tools needed for making our lectures more interactive.
I hope that you will accept my training proposal as professional guidance and training of teachers should never be stopped. If you are interested in this proposal, feel free to contact me on 363436634 or email me at (mention your email address).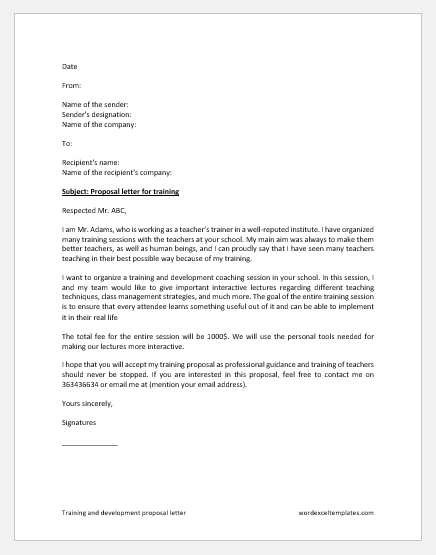 File: Word (.docx) & iPad
Size 23 KB
Another sample proposal letter written by a trainer to a prospective client has been given below
2.
Subject: Proposal letter for training
Respected Mr. ABC,
I am Mr. Adams, who is working as an assistant director in XYZ company. This letter is being written to let you know that I will be giving training to the staff of ABC company regarding the development of personal and professional communication skills. The training session will be held on 16th April 2022.
I am very happy to see all my students giving their best in their personal and professional lives because of the skills they learned from me.
Being the trainer, I would like to give you special training regarding developing communication skills as it has become integral these days to have great interpersonal skills if you want to be successful in your career.
I need your support in organizing this program and I believe that this program will be beneficial for all the people working in your company.
I hope that you will consider my request and therefore, look for very positive responses from you.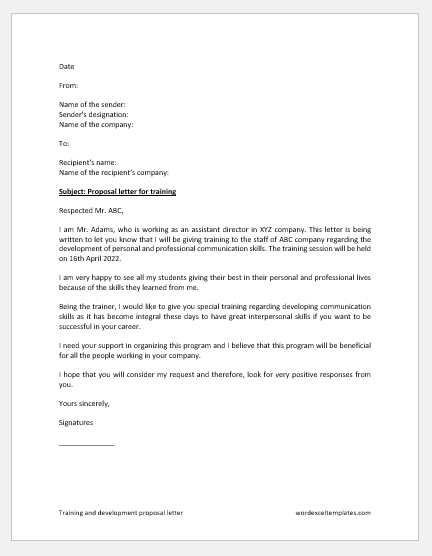 File: Word (.docx) & iPad
Size 23 KB