These days, people choose different places for photo-shoot. These places usually include historical places, beautiful places, or places with certain other attributes that they want to capture in their memories with the event being photographed. However, people are not independent to use any place. Rather, they can use only those places which they are allowed to use or which are in their ownership. Any place other than that can be used if and only if the owner or authority of that area allows. In order to know if the particular place owner allows you to use their place as a venue for a photo shoot or not, you will have to write the permission letter.
What is a permission letter to use the place for the photoshoot?
This is a specific kind of permission letter that helps the sender of the letter get permission to use a particular place as a venue for a photoshoot. This letter is very important to write because if people perform the photoshoot without the permission of the owner of that place, they will have to face serious penalties. In many cases, people conducting photo-shoot also have to face embarrassment.
Whether you want to do a photoshoot for your wedding or engagement event, or you want to do a party shoot at a beautiful place, you will be required to take the permission. If you want to do the photoshoot at someone's private property, you will be required to pay for using that property for photography purposes.
Tips for writing the permission letter for using a place:
Since it has been told earlier that you need to write the permission letter before you use any place for a photo shoot, you should ensure that you do it right. Below are some tips that will help you draft this letter in an efficacious way:
There is always a fear while writing the permission letter that the recipient might reject your request. To overcome this situation, try to make sure that your letter and your selection of words in the letter are capable enough to convince the recipient.
Provide sufficient details:
The recipient needs a sufficient number of details before he decides whether to allow you or not. So, provide all those details that you think he might need.
You should not forget to mention the purpose that why you want to use the recipient's place for camera shooting purposes.
Sample letter:
Date:
Name of the company:
Address of the company
To whom it may concern,
My name is (mention your name) and I would like to take your permission to conduct my wedding's photo-shoot on your hotel's beautiful lawn. My wedding event will be carried out from 28th March 20XX to 31st March 20XX. We expect to have 10 to 15 people at the venue including the groom and bride on above mentioned days from 11 am to 1 pm. Additionally, we will not use furniture or any other accessory of the hotel as our wedding event has been organized at our home. We will come with our family and a cameraman to do the photography.
The garden of your hotel attracts us a lot. Its blossoming natural and fresh flowers in the spring season have increased its beauty. I and my wife want to have our wedding photoshoot among these beautiful flowers along the side of the swimming pool because we want to enjoy the natural beauty instead of luxurious hallways. We want to capture this beauty in our cameras so that we can treasure them forever.
In this regard, I am attaching a check of 500$ with this letter as your hotel's manager has informed me that the hotel charged 500$ for three days photoshoot. I hope that you will not have any objection to our wish to do the photo shoot on the lawn of the hotel. I am looking forward to your positive response. If you need any kind of additional information from me pertaining to the photoshoot I am talking about, please feel to contact me on my phone number written here. Thank you so much for your cooperation and support in advance.
Regards,
Yours sincerely
Signatures of the sender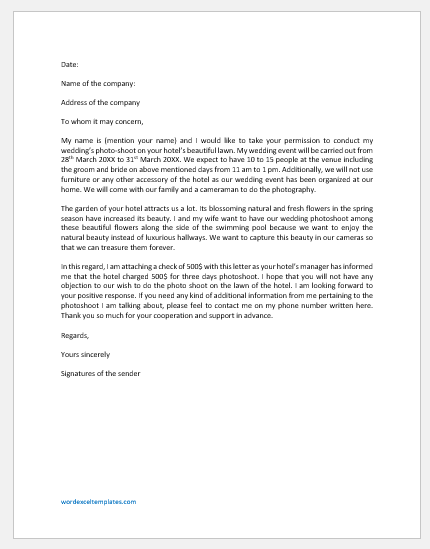 File: Word (.docx) 2007+ and iPad
Size 28 Kb
Download
---