The notice to explain the negligence is written by the employer to his employee to demand the explanation and details of the negligence. This notice may vary from condition to condition. In every organization, when any misconduct of an employee is seen, the employer can ask him to write the explanation letter to know the reason for that misconduct.
Notice to explain negligence also known as a show cause letter written by an employer to an employee to explain the reason of negligence in a task, assignment or a project. The letter can be issued for the explanation of lack in general performance or sometimes it highlights the particular issue(s) to be explained by the employee.
Although no explanation can justify the misconduct of the employee, the explanation may be used to let the employee know the seriousness of the matter. Moreover, sometimes the company is also answerable to a third person due to the negligence of the employee. In such a situation, demanding an explanation letter from the employee can solve many problems.
When the employer demands the explanation, writing the explanation letter becomes the more duty of the employee. The notice to explain has significant value in professional life.
When it comes to professional life, the negligence of an employee is unavoidable. The negligence or carelessness of an employee may cause inconvenience to the company due to which the company may ask the employee to explain the reason.
It is important for the employee to mention every detail in the explanation letter in clear words so that the reader can understand it. The complexity in relation to the information to be provided should be avoided as much as possible.
The impact of employee' negligence on his job is very strong. There can be very serious outcomes of the negligence sometimes. It is a batter for the employee to explain his negligence to the employer.
The negligence can be an improper use of equipment, being absent from the office without the permission, using rude language at the workplace or misbehaving with colleagues. The explanation notice demands the proper detailing of the incidents that took place.
The purpose of writing the explanation is to let the employer know about the reason of negligence. The notice to explain the negligence should be written in a polite way. Since you don't know the reason of negligence you should not treat the employee badly.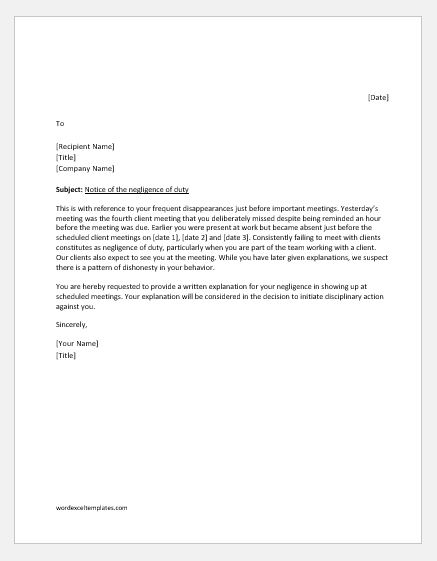 Notice to explain negligence
Go to Download