Many companies hold the salaries of their employees for many reasons. Sometimes, they are not satisfied with the performance of the employee. There can be various reasons for holding salary. If you are a passionate worker and you believe that you should be paid regularly and in a timely manner, you can request the HR to release the salary.
The grievance letter on salary hold is written by an employee to the manager or CEO of the organization to express his/her grievance for the salary hold without any reason. The letter is written in the scenario that the employee has followed all the rules and regulations set by the company to resign from the position and the company has no right to hold the salary of the employee.
Writing the letter is the most effective way to request for salary. But, it is important that you draft this letter professionally.
An employee feels angry when the company holds the salary and this anger may lead to a dispute. However, it is better not to ruin the relationship with the company as you may be in the need to ask for reference letter later.
In order to avoid the dispute, write the request letter to HR. Writing this letter is useful because it enables you to communicate with HR.
It is quite possible that your HR will contact you in response to this letter and will tell you about the reasons to hold the salary.
It is better for you to read the entire employment contract to know the conditions in which the company has a legal right to hold your salary. Here is a sample letter that may not be in accordance with your situation. However, you can modify it.
Grievance letter to HR on salary hold
Subject:
I submitted my resignation letter on 24th of last month [24/xx/20xx] with the formal notice of one month. According to the employment contract, the company was to pay me the last salary if I leave with the notice prior to leave the job. The company pays each employee on the 5th of every month.
This month, I did not receive my salary. The company has no right to hold my salary as per the employment contract.
I am writing this letter to request for paying me the salary. I have worked well and fulfilled all my jobs.
I would like to request you to release my salary as soon as possible. I am waiting to be replied as I am a respectable and old employee of your organization.
Yours Sincerely,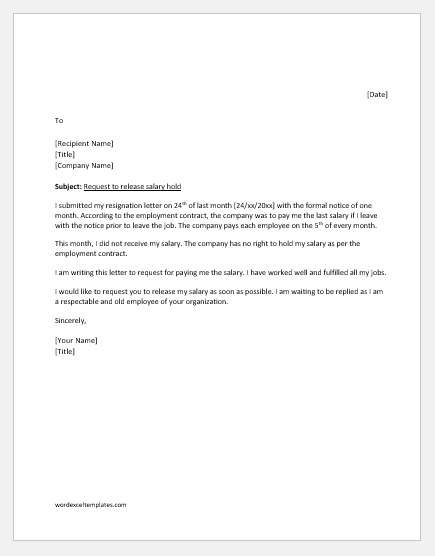 The letter sample
File Size: 26 KB
Download
License: [ENERGY]