We often contact HR of the company whenever we want to procure utilities that we need to perform the tasks that are assigned to us by the company. HR is responsible to provide us with all the resources that we need to work appropriately. So, it is a very common practice to write a letter to HR to issue us the stationery.
What is it?
Using writing material in the office is very common. Those who work in the office know that it is frequently used and they cannot do without it. People don't have their writing material and accessories when they are working in the office. Rather, they use the material which is provided by the office manager. When the office runs out of stock, workers have to write a letter to HR and ask for the procurement of that material.
What is the purpose?
The basic objective of writing this letter is to inform the higher authorities that there is a shortage of stationery stock that needs to be present in the office. In this letter, you also let HR know that you are facing difficulty in managing the workplace work without the availability of the stationery and you want it to be accessible as soon as possible.
How to write?
It is very important to ensure that you know how to draft a perfect letter of request to ask for the stock that has run out. The right type of content enables you to prompt the reader to approve your request and take steps to fulfill it. Read the guidelines given below to see how you can draft a perfect letter.
Tell who you are:
While you request for some resources to be available to you, you should know that the recipient is not going to do it for you unless he knows that you belong to the company. Therefore, mention your name, your designation in the company, the department you belong to, and some other pertinent details to prove that you are an authentic part of the company. This way, you will reduce the possibility of your request getting rejected.
Make a request:
Make a formal request that you need certain stationery items at your disposal. When you make the request, make a list of items that you need and the exact quantity. It is better to make a table to put the list in it. This will make it easy for the reader to know what exactly you are requesting.
Explain your request:
Although it is not mandatory, explaining the request can give strength to it. For instance, inform HR that it has become very difficult for you and everyone in the office to do without the items you have listed. This explanation will help you persuade the reader into quick procurement.
Close positively:
Since you are putting forward a request, it is better to remain positive and ask for the stationery items politely. Your polite language should convince the reader that you are putting a demand and it is a humble request from your side rather.
Read the sample letter given below to get a deeper insight into writing a request letter when your office runs out of stock and you want things to be available to you as soon as possible.
Sample letter:
Date:
Name of the recipient,
Address:
Subject: A request for office stationery
Respected HR,
My name is Mr. ABC and I am working in the marketing department of the company. Through this letter, I would like to put forward a formal request to you to kindly procure stationery items names and quantity of which have been listed below:
Name of the stationery item Quantity
These items are no longer available in the stationery store of the company and the entire department is facing difficulty as we have to borrow these items from other departments time and again. Therefore, I am requesting you to provide us with the stationery items that have been mentioned above.
I shall be highly obliged for this act of kindness.
Regards,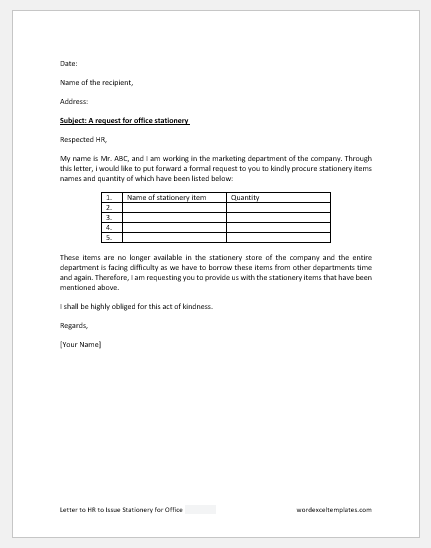 File: Word (.docx)
Size 23 KB
See also: