If you have collected funds for some welfare work then you can write a fundraising thank you letter to those who have donated the money for that work. You can write a fundraising thank you letter to
Assure the donor that he has chosen the right one for making an investment and has made a generous donation
make your donor comfortable that he/she has made the right choice and has done the right thing
make your donor happy that he has made an investment in your cause
bring happiness to his heart and also his life
Don't write in your letter that you are one of many donors who only invest once. Rather express your gratitude so that he/she may donate money in the future for your cause. Write an impressive thank you letter and make it memorable. Your thank you letter will leave a good impression on the donor and he/she will get closer to your welfare organization.
Once the donor has donated to your organization write a letter prompt as this will leave a good impression on him. This will also make your organization run well.
Start your letter in a personal way. Make use of the first person that is "I" and "We" and the second person that is "You". Be sincere and thoughtful while writing a letter. Express your feelings that how you feel about the donation made. Don't send a pre-printed card and send a real letter.
Sample Letter -1
We want to thank everyone on behalf of the children's hospital fundraising committee. Three months ago we had advertised that the hospital urgently needed new dialysis machines. Kids with chronic kidney disease often end up with kidney failure and they need dialysis for life or until they get a kidney transplant.
The required rate of dialysis for these patients can be as often as three times per week. Each session lasts approximately four hours. This puts a huge load on the number of available machines and often ends up causing an unnecessary and often dangerous delay in inpatient treatment. Hence the requirement for more machines. To this end, different fundraising events were planned including a concert by [name] and a spring gala.
It was only due to your active participation and donations that these events were a huge success and we have been able to raise more than [amount] which is enough to cover the cost of a new dialysis wing that would serve [number] of patients per day. This would help hundreds of young children suffering from this terrible condition.
When a community comes together for a good cause, it can bring about a change that improves the lives of everyone. Keep up the good work!!
Looking forward to your positive response.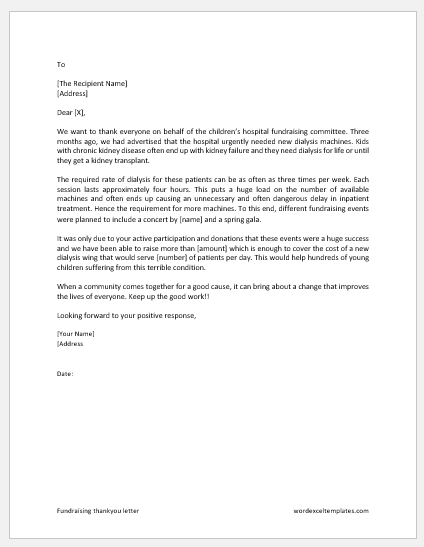 File: Word (.docx)
Size 23 KB
2-
I [name], from [organization name] am writing to share the good news that due to your efforts, we have been able to raise funds for the establishment of new day care in the government hospital [name].
Empowering women has always been our NGO's priority as without financial independence there is no concept of equality or living with honor or dignity. Women can make their own decisions and decide their own fate only if they earn their keep.
At the same time, women are the primary caregivers when it comes to kids. Without facilitating them in this regard, they would not be able to give their best at work. Every year due to a lack of appropriate child care services, [number] % female workers leave the workforce. As the money they earn is important for their families, leaving work results in a lowering of their standard of living and a myriad of problems.
Providing the female workers with a clean, safe, and comfortable daycare facility at work is important as it enables them to continue working while keeping an eye on their children. Female doctors and paramedic staff have long shifts and it is not possible for them to go home to check up on the children during the day.
Similarly, not everyone has a support system at home that can look after the kids while they work. Hence a daycare was urgently needed. Understanding this requirement, we started a campaign that would raise funds and make more child care facilities in all major public hospitals with the aim to facilitate the female workers in these hospitals so that they can work without worrying about their kids.
The support and the overwhelming response we have received is a sign of the importance of this task. The daycare at [hospital name] is just the first step as we intend to extend this project to all the leading public hospitals. These daycares do not just facilitate the doctors and other female staff in the hospitals but also create job opportunities for ladies with low educational backgrounds so it is a win-win situation for everyone.
In the end, we would like to thank all our benefactors and everyone who contributed even a little to this cause. Without your contributions and active participation, it would not have been possible for us to start this much-needed project which is bound to impact hundreds of lives positively. Keep up the good work!!
Looking forward to your continued support and help.