17 July 20XX

Mr. Luther Elif
Manager
XYZ Bank
980 Main St.
Houston, WA 45678
Dear Mr. Elif,

I am writing this letter to bring this into your kind notice that I, Edward Bloom, have changed my name from Edward Bloom to Joseph Morgan. I have my account in your bank and due to change in religion I have also changed my name and it will build hurdles in withdrawing my money from the bank.  
Due to this reason, I want you to enter my new name in all bank records. I have changed my name in all other main documents as well including my ID card, driving license, and degree certificates.
For your confirmation, I have affixed the copies of all the concerned documents along with this letter. I have also attached a copy of the newspaper in which I have the change in my name published in the XYZ newspaper. I want you to change my name in all bank related records too inclusive of my username, debit and credit card, passbook, and checkbook.
I would really appreciate your effort if you send me my checkbook and credit card at my preliminary residency having my new name on it. Before sending, kindly make sure that the spellings have been entered correctly in all the required places. In case of any extra information and questions, you can contact me via email or by phone call. Thank you.
Regards,
Joseph Morgan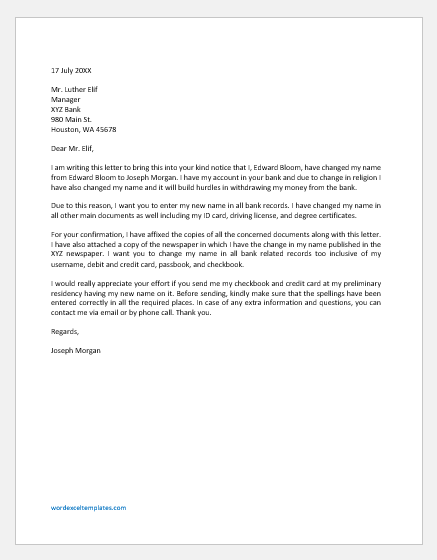 File: Word (.docx) 2007+ and iPad
Size 19 Kb
Download
---
2-
17 July 20XX
Mr. Mark Robin
Manager
XYZ Bank
111 Main St.
Washington, WA 00000
Dear Mr. Robin
The aim of writing this letter is to bring into your attention that officially I have changed my name due to certain reasons. I have an account in your bank having name Liza Herald and now I have changed my name from Liza Herald to Liza Marlow and legally using my new name everywhere. I have also made newspaper publication, gazette, and affidavit notification concerning the change in my name.
I would now like to make a request to you to change my name with my new legal name. Moreover, I have changed my residency so change my address to a new address as well. I have changed my name on all the important documents including PAN Card, driving license, degree certificates, and Voter's id. Therefore, I want you to bring a change in my bank related records as well and update it to my new name. As proof, I have enclosed the copies of all the documents in which I have made a change in my name along with this letter.
I want you to do this on the prime concern and send a notification letter to me regarding the change in name with my new name as I have ordered for credit card and checkbook. I am quietly satisfied with your services because I have been a customer here for the last ten years and I hope that you will take consideration of this request. In case you need further information regarding this, I can be reached at email [email]. Thank you.
Regards,
Liza Marlow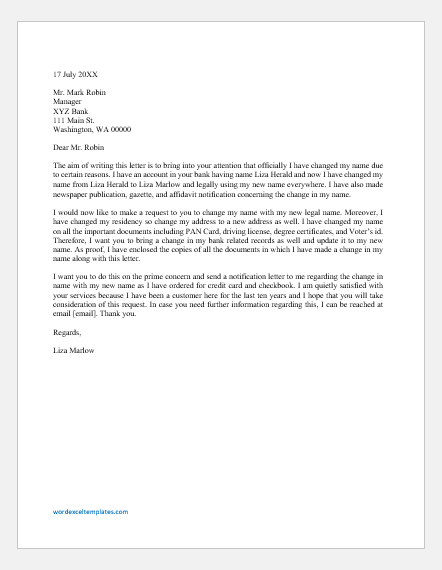 File: Word (.docx) 2007+ and iPad
Size 21 Kb
Download
---