These days, the salary of any individual in the market greatly depends on how much skilled he is and what value he is capable to add to the market. In addition, the competition in the market among individuals with the same type of skill sets also matters a lot in determining the salary structure.
Based on lots of factors, employers across the market set a structure. Unfortunately, sometimes this structure is glaring a bad structure that intends to exploit the employee.
Salary structure means a range of salary an organization offers to its employees depending on the job position. The salary structure usually tells the pay grade based on the job position in the market. With the help of this structure, it can also be seen that how valuable a particular job position is in the organization. Every organization has a different salary structure depending on its internal needs, competition in the market, the system of the company, and much more.
What is a letter denying acceptance of salary structure?
Employees are often asked to accept the salary structure that shows that they are convinced with the range of salary that a person can be offered while working on a particular post in the company. if the employee does not want to accept the salary he is being offered, he can write a letter to deny the acceptance.
In which situations it is suitable to write the letter to reject the salary structure?
A person working in any organization should know when and how he should write the letter of rejection. If he does not show care while writing this letter, he might put a bad impression on others. Following are some necessary situations in which one must come up with a professional piece of the rejection letter:
When the salary structure does not reflect the real value:
When you see that there is so much value in a job or skill in the market than what a company is trying to reflect through its salary range, you can write to your boss to let him know that you do not approve of the salary structure that is offered to you.
When you feel exploited:
Sometimes you feel that you have the potential to bring much more value to the firm and the market than what you are being offered. If this is the case, you should let your boss know that you are feeling exploited.
When you are afraid to set a trend of accepting low pay scale:
 If one person accepts a salary structure, he gives strength to the notion that everyone working in the same field should be paid the same according to the grade. This way, you are creating problems for other skilled people. Therefore, you must not do that you act according to what you find right.
When you have better offers:
Sometimes you get a better offer from another company that has a higher salary structure. If you feel like bargaining with the potential employer, you can decline his offer.
How to reject the acceptance of a salary structure?
Declining an offer of coming straight from the company you have been dreaming to work in sometimes leaves you so much stressed out. In this situation, you can either choose to work on the low salary structure or speak up. Declining an offer is a bold step and when you take this step, you need to be careful as to how you communicate it. Follow the tips given below:
While writing this letter, you should be clear about the value that you add to the company. if you don't know your value, you will never be able to pull it off.
Try to negotiate with your boss instead of showing utter stubbornness and declining as if you don't want to give a second thought to what you are saying.
Come up with your rationale behind not accepting the salary structure and try to make sure that you do it right
Mention the salary that you are expecting from the company based on the demand for your skills in the market, competition, and your degree. 
Sample Letter
Dear Mr. [name]
I [name] am writing to you in reference to the meeting that took place on [date] with Mr [name] from your Human Resource department. After repeated detailed interviews and thorough inquiry into my earlier work experience, I was hired by your reputed firm. In the last meeting, I was informed about my designation and the work expectations. Finally, I was told the salary structure.
I have considered it for [number] days now, but I am sorry to report that I don't find this salary satisfactory for this post. The amount of work required is a lot more than the salary package being offered. Also, there is no health insurance or reimbursement of transportation charges.
Currently, when inflation rates have risen so drastically and since I have a young family to raise, it is not possible for me to accept this salary. Please reconsider your offer. I am sure we can work something out if you are a little open-minded about this.
Looking forward to hearing from you.
Yours sincerely,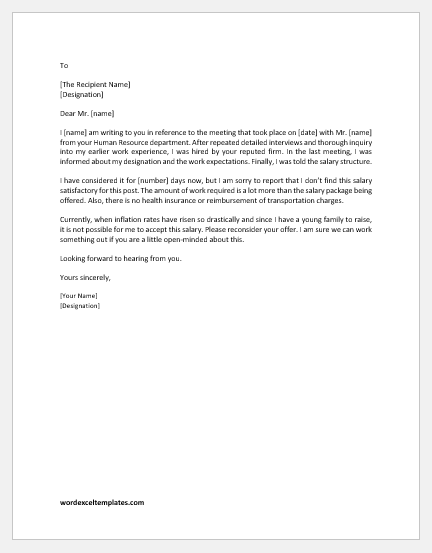 File: Word (.docx) 2007+ and iPad
Size 12 KB