What is late delivery extension letter?
When a seller commits with the buyer to deliver the ordered products by a specific date, he is required to make sure that the products are delivered within that time frame. If he does not deliver the products in that time frame, then he is required to inform the customer about it. If he thinks that product delivery could take more time, he should extend the date of delivery and write the letter informing the client about the extension which is known as extension letter for late delivery
Tips for writing the extension letter for late delivery:
It is a formal letter that is written by a business. Therefore, maintaining a professional tone is important. Maintaining a professional tone requires writing the letter with professional and polite language
Although you are writing to inform the reader about the extension, you should also keep the inconvenience in consideration that you are causing to the customer because of late delivery. You should bring up this in a letter that you are aware of the inconvenience. However, the delay is not under your control and you are bound to face it
If you are writing for an extension, you must be having a genuine reason to do that. Mention that reason in the letter so that it makes sense to the customer that the delay in the delivery is due to some technical or unprecedented circumstances.
Although the purpose of writing this letter is to let the customer know about the extension, you can also add the apology statement in the letter so that the reader can understand that you are aware of the problems he has encountered
Make sure that whatever you say in the letter is based on true information and facts. For example, if you are giving the reason for no transport service available causing the late delivery, make sure that you are being truthful and whatever you say can turn out to be true if the client confirms it from any source.
There should not be any irrelevant information in the extension letter. If you are telling about the extension, stay relevant, and stay focused.
What should be included?
This letter should include the following details:
Explanation of the extension:
The letter should be started with the explanation of the extension which means, the date of extension, reasons for the extension, and several other details related to extension should be given in this area of the letter.
Writing an apology is not important. However, if you want to write it, this will be a good gesture. You can write the apology and tell the reader that you are aware of the problem but the extension is something inevitable at this point.
Just like any other letter, this letter also has an ending part that needs to be written cautiously. It should include the thanking statement and contact details.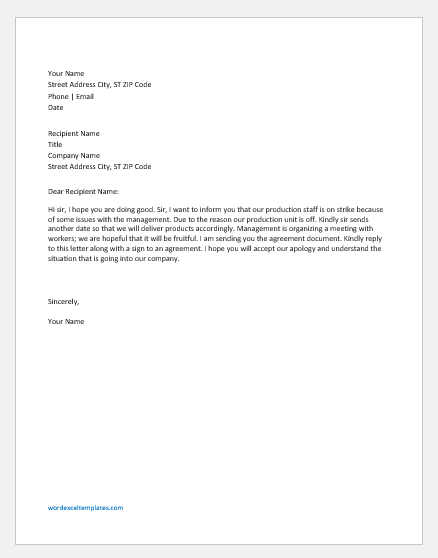 Download
---