What is an apology letter for delay in production?
If your client has placed production orders at your company and your company is not able to complete the production order by the specified date, you should write the apology letter to the client.
When to write the apology letter for the production delay?
The delay in production causes inconvenience to a business in many ways. The client who is waiting for the production task to be completed has also many commitments to fulfill. In other words, his business also is affected when the production is delayed. Therefore, he is likely to not get your production services in the future. You can correct the situation by writing an apology letter.
How to write a delay in the production apology letter?
If you don't want to lose your customer, you should apology in a professional manner. Here are some steps that you can follow for writing this letter.
Start with an explanation of the issue:
It should be kept in mind this letter is a professional document that does not need anything extra or unwanted to be added to it. You should start your letter straight to the problem that you have faced. This will enable you to address the problem that has caused you to face the delay in production. One of the most common reasons for the delay in production can be the breakdown of machines that are used for production or lack of workforce due to any reason. No matter what reason you have, elaborate it briefly in the letter.
Write the apologetic statement:
While writing this letter, do not lose their purpose. You are not writing to tell the reader that the machine has stopped working or anything has happened. Rather, you are writing this letter to apologize for being late in terms of production.
Tell how long will it take more:
If the production is delayed and you are writing the apology letter, you are also notifying the client about the delay indirectly. The client may want to know how long it will take to complete the production. So, you can tell the client what effort you are putting in speeding up everything to accelerate the process of production.
End the letter on a positive note:
It is important to end the letter on a positive note. You can apology again at the end so that the customer can see that you are emphasizing your apology and you are apologetic. Furthermore, also thank the client for showing patience at this point when the production is delayed due to some reasons.
Tips:
Write the letter briefly without adding long and unnecessary details.
Make sure that your letter is concise and precise at the same time.
Proofread the letter so that you don't send the letter with grammatical mistakes in the letter.
Write a letter in paragraphs to increase the readability of the letter.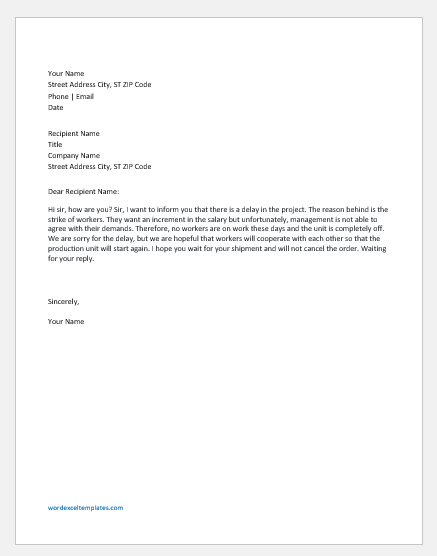 File: Word (.docx) 2007+ and iPad
Size 28 Kb
Download
---