An application for working as a graphic designer from home can be written typically to the employer or hiring agent of any multimedia companies, TV or broadcasting companies, books or magazine's publishing houses, software houses, tech houses, brand agencies, advertising companies, print houses, or packaging industries.
The qualification required to apply as a graphic designer is any degree relevant to the working of art and design. Many colleges and universities offer programs in graphic design. Applications can also be accepted by the candidates having no open qualification in the relevant subject but can be accepted on the ground of experience and sound knowledge of software and graphic designing.  
Typically, graphic designers design graphics for media, magazines, television commercials, books, and labels. A graphic designer should be able to get the client's requirements and the amount they can spend. Communicate with clients to know about the wanted style, formatting, timescales, and production. A dutiful graphic designer should be able to design and develop rough drafting of the graphics and laying out concepts of the organization's logos and websites.
Following skills are needed to work as an efficient Graphic Designer:
Strong creative skills
Innovating new ideas and solutions
Organizing time management well
High accuracy
High professional communication skills
Technical skills like IT, Software designing, Photoshop, photo-editing, and graphic usage.
Sample Application
Mr. Nicholas Helge
The Administrator
SHK Silk Textile Industry
34-D Noam Square, Brooklyn
New York, USA
20th April 20XX
Re. Application for the Job of Graphic Designer
Dear Sir,
I am writing this application to apply for the job of graphic designer which was announced on 17th April 20XX in The News, USA. I see myself as an eligible candidate for this job and want to provide my dedicated and sincere services to this organization as a graphic designer. I did my master's in computer sciences from the University of East London, England. After doing my master's, I started my job as a web developer and explored my interest in graphic design.
To pursue my interest, I started a short course to learn graphic design. I did this short course named as Graphic Designing and Development from The Experts Developers and CSM in 2015.
To pursue my interest and explore more, I shifted all my interest in working forte to Graphic Designing. Then I started working at SHK Nomad College, New York. I worked there as a graphic designer and developer and fulfilled my duties to maintain the college website through enchanting graphics, college magazines published every month and their social media pages.
During my job at these places, I learned to work under strict deadlines and high accuracy with the least supervision. I nourished myself as an excellent Graphic Designer capable of using Photoshop with excellent innovation and giving out creative graphics. I am also enchanted by the home nature of this job as I want to work from home as I find it more productive and saving a lot of time and energy.
I shall be thankful to you if you consider me for the position of graphic designer in your company. I am looking forward to your kind response.
Thank you
Sincerely
Jemil Nasar
31 4C, Istanbul, Turkey
[Email]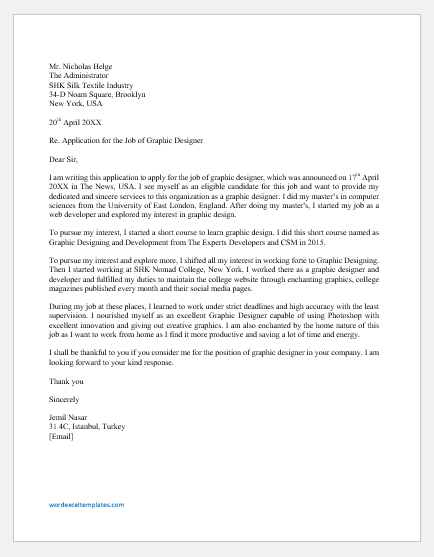 File: Word (.docx) 2007+ and iPad
Size 21 Kb
Download
---