We often have to write reference letters for our colleagues, friends, and employees for various purposes. The least common, yet very important scenario in which we are asked to write a reference letter is when our friend has applied for immigration. 
What is an immigration reference letter for a friend?
It is a specific type of letter of recommendation that you write for your friend in which you vouch for his character and good reputation. This letter actually highlights the positive aspects of the applicant because the purpose of this letter is to convince the visa officer that the applicant is a person with good moral character. 
Why is it important to write an impactful immigration reference letter?
These days, visa officers and embassies work meticulously and pay individual attention to each and every application so that they don't grant visas to those people who don't qualify for them. Usually, those people who qualify for it who don't, who are not well-reputed in their own country, or who have any sort of criminal record because they prove that they have a slight chance to get involved in mischievous activities.
So, when you are referring to a friend, you are also required to be very careful as to what details you mention in the letter. It is important to remember that your letter may not have a direct impact on the immigration office, but it can strengthen the profile of the candidate. which will eventually go in the favor of the candidate.
Best practices for writing a reference letter for a friend who is immigrating:
If you want to help your friend by writing a reference letter for him that can have an impact on the immigration officer, read the best practices that you can follow:
State your relationship with the candidate:
The immigration office would like to know how you are related to the applicant. If you introduce yourself as a friend of the applicant, they would like to know what kind of friendship you have with the applicant. Introduce yourself and tell how long you and the applicant have been together.
Share the background of the applicant:
In this section of the letter, you should give a personal background of the person because the immigration office will try to understand what kind of character the applicant has. If you know him personally, then don't try to write about the professional life of the candidate because the reader will guess that you are not being truthful.
Discuss the behavior of the candidate:
The behavior of the person matters a lot for those who have to issue the visa to the candidate. A friend generally knows about a person and can be the best person to be approached in case someone wants to know something about the candidate. Discuss what type of personality the subject of the letter has and then illustrate your points with the help of an example.
Give your personal statement:
Your statement about a person might be helpful for the embassy to know whether the person who has applied for the visa is a well-reputed person or not. If you give a positive personal statement about a person, it means that the person is loyal and truthful to his friends and he is not going to perpetrate any scam on other people also. People with high moral grounds and good character are everyone's favorite including the visa officer.
So, your main focus should be on convincing the reader that the person you are referring to deserves to be accepted as an immigrant.  
Don't talk about bad qualities:
Every person has some good and bad qualities. There is not a single person who is perfect in behavior and conduct. Those who are responsible for granting the visa also know this fact and therefore, you don't need to mention the bad qualities of the applicant just because you want to be truthful.
Focus on all the good and positive aspects of the personality of the candidate. It will show that the applicant had been loyal and sincere with his friends due to which, his friends have lots of good things to say about him. 
Samples
#1
I am Ifra Gull and I am feeling honored in writing this letter to you on behalf of Eve, my great friend. After pursuing a successful career in accounting and finance she moved to New Jersey to go further in her studies. She has been a good friend of mine and I have magnificent experience doing research work with her. She possesses the excellent qualities of a good human being and she has a great urge to work with compassion and integrity. You will find her a good addition to your community.
Eve has a solicitous background and it is her dream to help the poor class with moral and financial support. Her father is a renowned medical assistant at ABC Institute and has been giving services for more than two decades. She has a great urge to pursue higher education in New Jersey as her father is already serving in Brooklyn.
She embodies good moral qualities, resilience, and diligence and is bestowed with compassionate nature. She was the apple of everyone's eye throughout her academic career and will prove a good asset to your country. I will be grateful to you for taking into account my reference letter. I will wait to get a positive response from you. You can ask any query related to this and I will thoroughly assist you.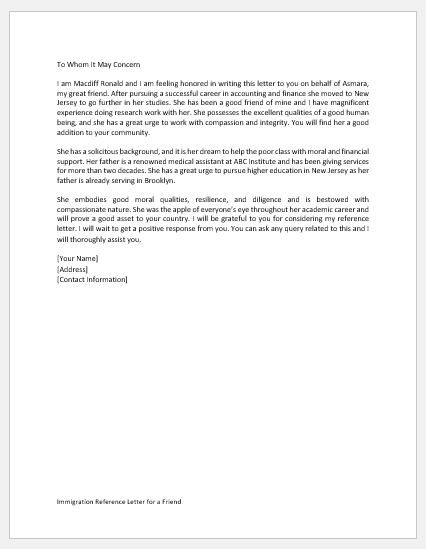 #2
This letter serves the purpose of reference written for my friend Mandel Tate. He wants to get US citizenship and has applied for it. We have known each other for more than six years and he is beyond describable.
I owe him for being possessed with loyal nature and a hardworking champ. We met first time in a private firm in Rome and we were working on the same project. He provided me with all kinds of assistance and remained there for me all the time. I was greatly impressed with his kind hospitality. I know him as industrious, conscientious, and determined as a whole.
His wife and children live in Manchester and he wants to live with them. You will find him honest, assiduous, and industrious and I truly mean what I am saying about him. His friendship is one of the greatest blessings of life and I suggest he has lifetime occupancy in Manchester. You can ask anything in this regard and it would be my pleasure to do something for my friend.
See also: