Homeowners association violation letter is a letter that is prepared by the board of directors of the association, in which the violator is addressed and notified about the violation he has been involved in. The violation letter is similar to a warning letter, which is issued to address the problem and avoid any strict action.
The homeowner associations are formed to improve the overall living conditions for the residents of a community. For this, certain rules and regulations are formed that lay the basis of the management and administration of the community. The residents have to comply with those set rules and in case of violation, the association takes an action to resolve the issue.
Initially, the association representative tries to resolve the issue verbally with the violating individual/home. If the issue does not get addressed, a notification letter is sent, in which the violator is politely informed about the issue and is requested to resolve it. The third step would come if the issue does not get resolved even after this polite letter, which involves sending a violation letter.
The tone of the violation letter should not be condescending, but a little strict. The extent of violation would be the main factor affecting the information stated in the letter. Common details are
Date.
The issue of the violation.
Effects on the community.
Reference to the rules set by the association.
Warning.
Seek improvement to avoid serious actions.
Provide room for communication and contact.
Salutations.
As the homeowner association benefits everyone in the community, the violators often change their practice after receiving this violation letter. However, if they do not improve their behavior, the board of directors may take some serious action, as deemed necessary by them.
Sample Letter
Date
Name
Address
Dear Mr. Watson,
As directed by the board of directors of the homeowner association of ABC community, I am writing this letter to notify you that you have violated the rules of the association.
For the betterment of our community, we have developed some rules and regulations that all the homeowner has to abide by. One such rule is to avoid any construction or renovation work after 6 p.m., that may disturb the neighbors. As per our knowledge and the complaints received, some renovation is going on in your home, the hours of which extend till 9 p.m. Your neighbors are getting affected due to the unpleasant sounds and constant disturbance.
We request you to cut down the hours till 6 p.m. so that everyone in our community can enjoy a peaceful evening and night. We hope to stop hearing the blares so that no action is required from us.
If you want any information or provide an explanation, contact [contact].
Regards,
Sarah Jim.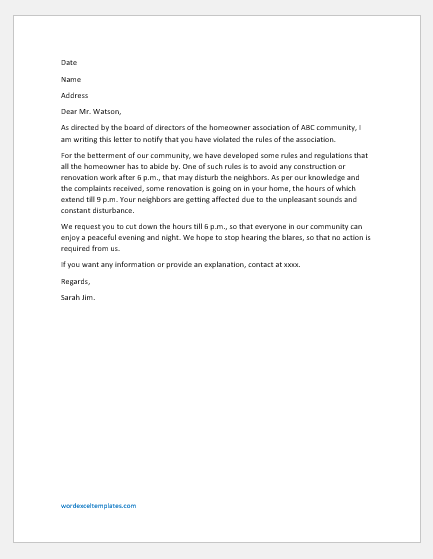 File: Word (.docx) 2007+ and iPad Size 20 Kb |
Download
---