Sample -1
Ref. No. 341-MP-2020
22-04-2020
To whom it may concern
It is certified that Mr. [X] has been working as a computer operator in the department of Pathology, Liberty Medical College, Chicago. He had been working in the aforesaid department for the last five years. Being a computer operator, his principal duty was to monitor and control the computer system especially the mainframe computer of the pathology department. He was equally good at operating a computer hardware system, controlling the peripheral devices, Typing and drafting as dictated by various officers, solving minor errors in the system, locating and solving malfunctions, and loading of files on storage data.
He proved himself unparalleled by exhibiting his job duties efficiently. He was a few steps ahead of other employees by virtue of his personality traits such as excellent command over his knowledge, enthusiasm to work, good communication skills, multi-tasking ability, and zest to complete all work within the specified time frame.
Moreover, his self-driven attitude enables him to work independently. He also stayed in office for extra hours during examinations for typing important documents. In short by means of his professionalism, he built his repute among all the departments of the university.
In fact, there is no exaggeration if I say that he was a unique gift to our department, and we wish him the best of luck for his future endeavors.
Dean Pathology Department
Liberty Medical University
[X]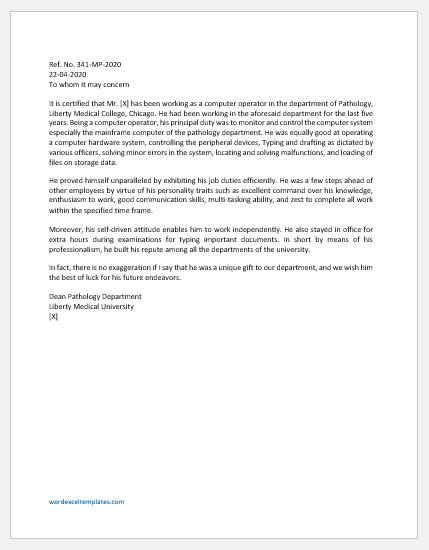 File: Word (.docx) 2007+ and iPad Size 18 Kb |
Download
---
Sample -2
Ref. No. 342-KP-2020
22-04-2020
To whom it may concern
I, Mk. Anderson, the sales head at Engro Fertilizer Company am writing this letter to certify that Mr. Andrew Miller had been working as a computer operator in one of the company offices located in Michigan. He served our company from 1st July 20XX to 30th June 20XX for four years. He was supposed to do all work related to the computer such as drafting, sending and receiving emails to potential customers, Calling various farmers, Finding small errors in the network and rectifying those, creating and managing files on the computer, collecting data about farmers production and putting into the spreadsheet for further process. He had not confined himself to this limited work, but he was also associated with some managerial work.
Miller was recruited as a Junior Clerk at our company. He had the enthusiasm for computer-related work even at that time. No sooner did he complete his computer diploma and he was offered the post of computer operator which he accepted wholeheartedly. Serving at this post, he showed his excellent communication and interpersonal skills. He used his knowledge in an efficient way and proved that he was a good computer operator having vast knowledge of handling a computer.
Moreover, throughout his stay with us, we found him a self-motivated and enthusiastic person who had the zeal to complete tasks within a specified time limit. Whatever the work he was assigned, he did it with full sincerity. Everyone could see his devotion to work which was prominent. We wish him the best of luck and hope that he will prove himself an asset for any organization wherever he goes.
Marketing and Sales Manager
Engro Fertilizers and Seed Company
[X]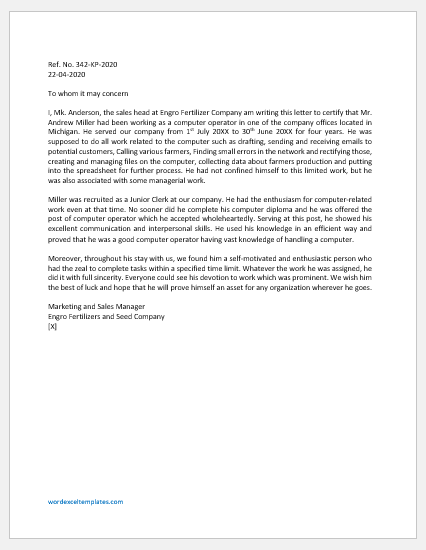 File: Word (.docx) 2007+ and iPad Size 17 Kb |
Download
---