Excuse letter for being late to school is a document written by a schoolchild or child's parent in which he addresses the school authority to grant excuse for the absence incurred. Usually, the letter is accompanied by other documents such as medical certificates, travel tickets, or visiting a place as a proof to validate the excuse.
One of the foremost responsibilities expected from a student, other than paying attention to academic records, is being punctual. In general, schools' rules and regulations are created and imposed upon strictly to maintain discipline. Without this decorum regulated, the academic environment can easily fall apart. Thus, the best kind of institution is the one that's known for not only its faculty and students' educational prestige but also its order.
Understandably, students are not allowed to come late to school let alone be absent for days without prior notice or leave applications. Doing so can cause students great loss in the form of a monetary fine or notice to parents. Sometimes, in case you are habitual of it, your parents can be called at the administration office or expelled from the school.
This is where an excuse letter for being late to school comes in handy. An excuse letter for being late to school has the potential to not only clarify your position on why you were late in the first place but also spotlight you as a responsible individual.
If you were late because of heavy traffic or a personal reason, you can simply state this. In case there was a medical emergency, attaching the relevant documents can make your letter more acceptable. Hence, in the future whenever you get late again, you will not be perceived as someone careless.
Here's a sample of an excuse letter for being late to school for you. Hope this assists you in crafting yours or at least gives you an idea.
Sample Letter
Dear Mrs./Mr., (Teacher's full name)
I am writing this letter to you as I am ashamed to be late today in your class from the deepest of my heart. I had to be in the class at 00:00 whereas I could only make it at 00:00 which, I admit, is quite late. Because of me, the whole class was at unrest and the discipline was also broken.
Your annoyance and displeasure are also understandable. Therefore, I would like to apologize to you for this irresponsible behavior of mine and narrate to you the reason why I was late.
My parents had scheduled some important meetings at their workplaces at the same time and we had only one car functional at the moment. My father first dropped my mother at her office and then we drove all the way to the other side of the city at my father's workplace. After he went to his job, my sister drove the car and dropped me at my school. The traffic was heavy and the cherry on top is, it started raining on our way to school owing to which she had to drive slowly.
I assure you it will not happen again as I have great admiration for you and your subject in my heart. I have taken the notes from Mike for the lecture I missed, and I will submit the assignment today on its due time. I request you to please accept my apology and not mark my absence from the class as the attendance of this lecture is very substantial for me. 
Yours sincerely,
XYZ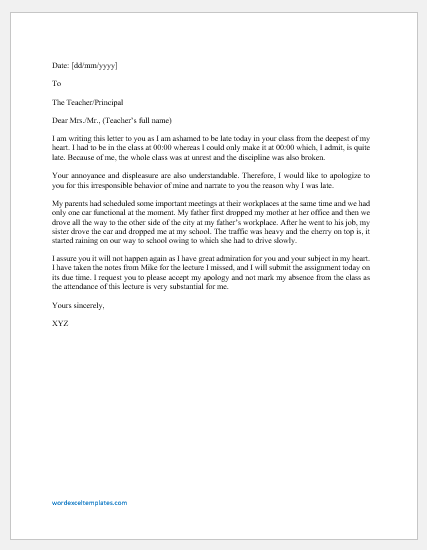 File: Word (.docx) 2007+ and iPad Size 21 Kb |
Download
---