A car insurance certificate request letter is a document written or drafted by a car owner and addresses the insurance company in which he requests the company to provide him with an insurance certificate of his car. The certificate is proof that the owner of the car is carrying valid auto insurance which in some cases is mandatory to present.
If a person has been asked to provide proof of car insurance by a registered company, he needs to write a letter to his insurance company requesting an insurance certificate. The current letter serves the same purpose. Having a little know-how to write this type of request letter becomes indispensable in those countries where car insurance is necessary. In these circumstances, acquiring an insurance certificate as proof carries primary importance.
There are several occasions when a person can be asked to produce such a certificate in order to prove that the car has been insured. For example, in the case of employment that requires a certain level of car usage, an employer may ask his employee to provide a car insurance certificate. Similarly, in certain welfare states, acquiring an insurance certificate is considered a prerequisite for driving. In all such cases, if an employee has no certificate, he will have to write a request letter to his insurance providing company.
Writing this letter is beneficial both for employers and employees. It results in the production of that certificate which keeps both parties away from bearing damage in case of an accident or mishap. To overcome the loss, in that case, becomes the sole responsibility of insurance providing company. This letter can be written by a person directly to an insurance company or an employer may demand an insurance certificate through a request letter to the insurance company on his own behalf.
Sample Letter -1
05-05-20XX
The area manager,
Waxen Insurance Company,
City Tower Branch, Michigan.
Dear Sir,
Thank you very much for informing me about the active status of my car's insurance. I am writing this letter with reference to the insurance policy No. [X] which I bought from your company last week. Getting my car insured by a prestigious company like yours gives me a sense of protection because your company has an excellent track record as far as the provision of the best services is concerned.
Through this letter, I want to forward you my formal request to provide me the car insurance certificate. I am working in an organization where traveling is considered an integral part of the job. I have my own car and I was directed by my CEO to get my car insured by the 30th of May. That's why I contacted your agent. After successful insurance, the responsibility of providing me the insurance certificate is still lying on your shoulder and you are requested to issue me that certificate before the deadline so that I could save my job.
I hope you will entertain my request and make it happen before the deadline. Thanking you in anticipation.
Yours Sincerely,
Anderson.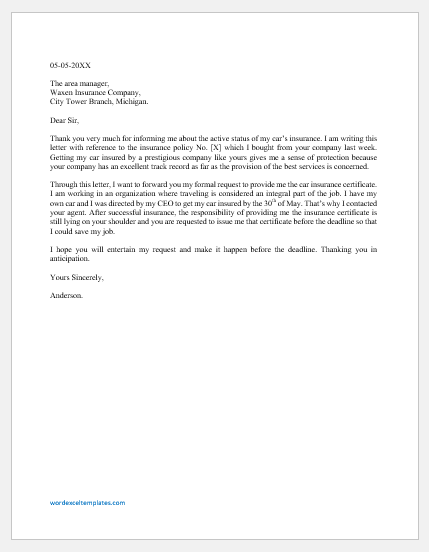 File: Word (.docx) 2007+ and iPad Size 19 Kb |
Download
---
Sample Letter -2
Dear Robert,
Thanks for your nice cooperation at the time of my car insurance. By virtue of your kindness, my insurance policy was active with immediate effect. I am writing this letter to you for getting one more favor.
You know that as per the rules of our state, I can't drive my car on the highway until having a valid car insurance certificate. I am doing the job in a company where I have to move far off places of the state. It is only possible when I have an insurance certificate with me while driving on the road. Besides my office work, I need to move with my family time and again. To meet all these needs, I am in dire need of the said certificate and I know you can help me in this critical situation.
Keeping in view my problems, please entertain my request and issue me the above-mentioned certificate as soon as possible.
Yours affectionately,
Anderson.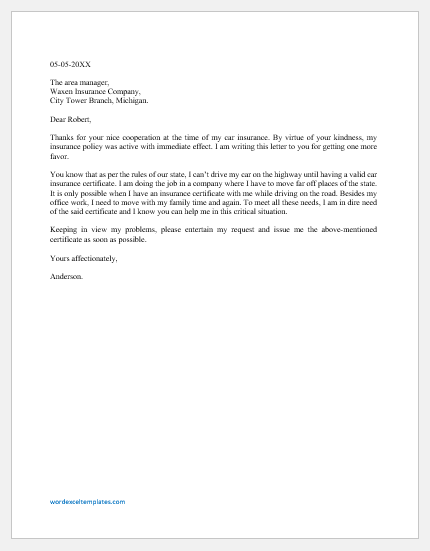 File: Word (.docx) 2007+ and iPad Size 21 Kb |
Download
---