This is a formal letter that an employee writes to his employer when he decides to confess to stealing money or precious assets from the company. This generally happens when an employee is embarrassed about stealing something from the company.
Confessing about stealing something can be embarrassing but it saves the employee in the long run. Confession also shows that the employee is apologetic and does not want to repeat the mistake in the future.
When an employee feels that his act of theft has created so many complications and his employer finds him suspicious, he might perceive that his job is in danger. In this situation, admitting the mistake can save him from losing his job
Writing a confession letter…
Remember the following points when you write a letter with a confession statement:
Start the letter with the confession statement. Describe how you stole something from the company and when
Don't ever try to justify your act of stealing by giving a reason or by telling how needy you were
Write a statement of apology to let the reader feel that you are guilty of your wrongdoing. This way, the reader will be able to understand your purpose in writing the letter
Give assurance to the reader that you will never repeat this mistake again
Below are two sample letters that can guide you as to how you can write a letter when you have to admit your mistake
1-
The purpose of writing this letter is to send my sincere apologies to you for stealing a laptop from the office. I stole the laptop during the break hours when there was no one around. This incident took place on 15th June 2030.
The day when the theft took place, I was under so much stress. I had a very urgent assignment to submit, and my laptop was out of order. I did not have the money to buy a new laptop immediately. I could not think much about right or wrong and decided to steal a laptop from the office. I know there is no excuse for such an act, and I cannot justify that my action was right. But I would request you to please give me one chance to correct myself.
I have been engaged in any such activity before. I am ready to accept the punishment whatever you think is suitable for me. However, it is my humble request to you to please forgive me just once. I am looking forward to your kind response. Thank you so much for your consideration.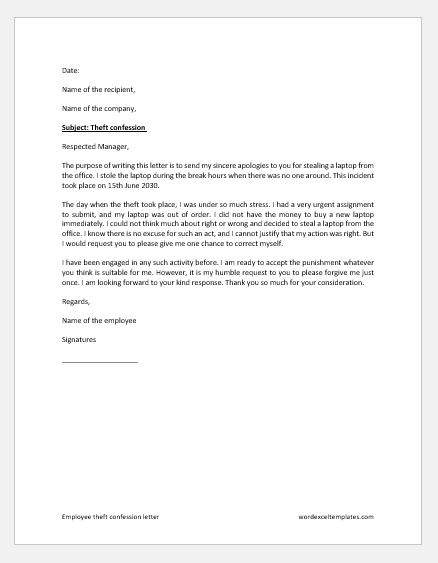 2-
Please accept my sincere apologies for being involved in the act of theft. Two days back, there was theft news circulating in the office. I am so sorry to inform you that I was behind this theft case.
I know there is no justification for a gross act like stealing money from the workplace. But I want to let you know that I am going through a financial crisis. As you know, I have written many request letters to you for a raise in my salary. I needed money for my medical treatment that I was unable to afford because of lack of money. This made me get myself engaged in the very shameful act of theft.
My reputation in the company is too good and I have never been involved in any such shameful act. I assure you that this will not happen again. I returned the stolen money to Mr. ABC this morning. I am sorry for being a thief. I am ready to accept any type of punishment whatever you deem right for me. However, it is my humble request to you to please forgive me.
I am looking forward to a kind response from your side. Thank you so much for considering my letter and cooperation.