In professional setups, you are always in state of receiving complaints of different types whether you're running a business; you are a government officer, working as a principal of an institute, etc. These professional setups demand you to behave like professionals even in the worst of situations. Receiving an aggressive complaint letter may make you lose your temper but here's where the moment to be sane begins.
Writing a complaint letter response is an art: An art big enough that only a few corporations, businesses, and institutions master. Dealing with complaints has a direct link with your reputation. It forms a public opinion of you.
Some useful tactics to follow
The tactics to respond to a complaint letters are hereunder;
Do not be late! As soon as you receive a complaint letter, try to respond to it. At least inform the sender that you've seen the letter and will get back with a solution.
Not everyone knows how to write potential and decent complaints. Some people just start banging others down and write aggressive complaint letters. The tactic is to be more polite with such complaints and write your complaint letter response even more carefully.
When you receive a complaint, know that it is feedback from your customer/employee, etc. Your complaint letter response should tell them that their feedback matters to you and is highly valuable.
Though there's no specific rule for writing complaint letters, they are usually written in email format and business letter format is rarely used for complaint response letters.
There is also no specific length of a complaint response letter. It depends on the nature of the complaint and the details associated with it.
Since your customers feel valued when they receive a response to their complaint, you should not forget that they also expect action from you following the response. Nonetheless, writing a prompt complaint letter gives a good impression of you and is in itself an advertising tool.
So, check your inbox right now and send response letters to all complaints that you find there. Because it matters!
Samples
1- Complaint response letter to the customer
Thank you for reaching out to us. We apologize for the inconvenience you have faced owing to the delayed delivery of your order. Unfortunately, the product you ordered went out of stock due to its high demand. However, it will be restocked in just a couple of days. We will make sure your delivery takes place on an urgent basis once our stocks have been replenished.
We are extremely sorry for your unpleasant experience. Let us make it up to you by offering a 5% discount on your next purchase. We hope you continue visiting our store.
Thank you for your patience and cooperation.
2- Restaurant customer complaint response letter
Thank you for providing us with your feedback about your visit to our restaurant. We are extremely regretful for the inconvenience you faced. Our Hi-Tea buffet is only served on the weekends because of which we usually have a full house. Kindly make your reservations prior to your visit so that such inconvenience can be avoided in the future.
Once again, thank you for your feedback. We look forward to your next visit and hope to provide a wonderful experience for you.
3- Internet service customer complaint response letter
We have received your complaint regarding the slow speed of the internet. We regret the inconvenience. Our technical team is looking into the issue and will be resolving it as soon as possible.
You will be informed once your internet speed has been restored. We appreciate your patience.
Please feel free to contact us for further queries.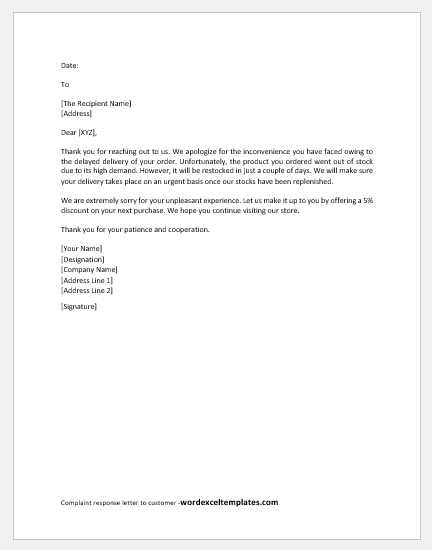 More sample letters…