The cold and cough leave letter to the office is a letter written by an employee to inform his employer about his current health condition. In this letter, the employee not only talks about his cold and cough but convinces the employer and requests him to grant him sick leaves. To make the case strong, the employee may attach a doctor's note or prescription with this letter and send it to his employer.
The symptoms of cold and cough are very common, but they make a person weak and lethargic, and so the doctors often prescribe rest to the patients suffering from this infection. Employees often try to take days off if they cannot perform effectively and efficiently. However, they need to formally inform their employers as well as apply for the leave. This process is, usually, carried out by writing a cold and cough leave letter to the office.
Sometimes, the application form is filled and sent along with this letter, or the application is filed online and is mentioned in this letter. However, depending on the companies, this letter may also serve the purpose of the application letter as well, and a separate application form may not be required.
The length and information included in such letters may vary from one scenario to another, and from one organization to another. However, the generic content includes:
Details of the employer.
Details of the employee.
Inform about the issue of cold and cough being experienced by the employee.
Effects on the employee and doctor's prescription.
Contagiousness of the disease.
Request for the leaves, with the dates.
Any attached documents to convince about the need of the leave.
Mention application form, if attached or filled online.
Seek understanding.
Show availability from home in the case of urgent work, if possible.
As cold and cough are contagious, usually, the employer accepts the employee's leave application, because if he rejects it, and the other employees catch it as well, the employer might have to face a ripple effect. This would lead to a decrease in the overall productivity, which is why usually the leaves requested due to cold and cough are granted by the employers. Also, if the employee is availing his sick leaves, and there are no major commitments from his side, the employer would easily allow the off days.
Sample Cold and Cough Leave Letter to Office
Dear Mr. Mathew,
I am writing this letter to inform you about my health condition, as I am experiencing cold and cough symptoms. I also want to apply for three days' leave from work.
My son caught a cold and cough from his school, and then I caught it from him. We have visited the doctor, and he has prescribed us anti-allergies. Further, he has asked me to rest, at least for few days. I am attaching his prescription with this letter as well. As my condition is contagious, and I am not feeling well, I believe I should take days off from work, so that no colleague catches it from me.
I want to request you to accept my leave application for three days starting from 3rd September 20XX till 5th September 20XX. If there is any urgent work during these days, I will work from my home. Hopefully, I will feel better after resting for three days, and the severity of symptoms would lessen as well so that I can resume coming to the office premises.
I am attaching the filled sick leave application form with this letter. I hope you will accept my application. Thank you.
Regards,
Sheldon Steven.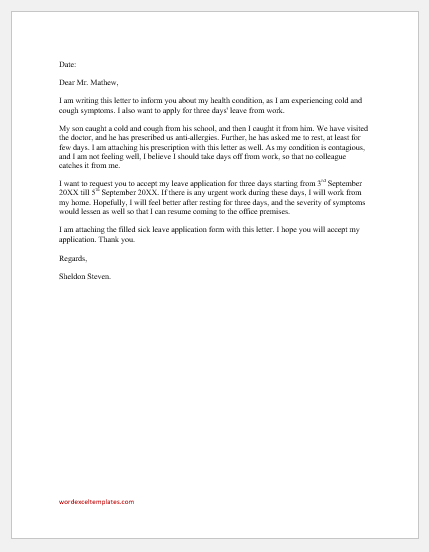 File: Word (.docx) 2007+ and iPad
Size 29 Kb
Download
---