As the name states, the project completion certificate is issued at the end of a project by the project delivering company for the client company. When all the activities entailed in the project have been completed and all the associated issues or problems have been resolved, this certificate is issued to serve as evidence that the project has been successfully completed. It may be issued as a part of completion procedure or company policy, or the other party may request for such a certificate to be kept in the record file.
A project may be short or long-term in nature. Short duration projects are easy to manage, however, if a project has a long duration, it may involve a number of activities and milestones. Once everything is completed, a certificate issuance would notify the relevant people about the project deliverance.
There are many benefits of issuing a project completion certificate, such as:
A project completion certificate would be a notification as well as proof that the project has been completed successfully.
It can be kept in the record file and can be used for any future reference or in case of any confusions or issues.
The signatures on it make it a valid document that may help project delivering party in standing against any future claims of the client regarding project issues.
As it has project details, including the start and end date, the main activities, financials, etc., it can be used to match the initial contract and any variations may be dealt with before handing over the project and signing this certificate.
This certificate, usually, also marks the successful and formal end of a contract between the two parties.
There are many templates available online that can easily be downloaded and customized as per the requirements if a company or individual does not want to design it from scratch. The available templates can be used for various types of projects and one can easily find the relevant template according to their project specifications with complete editability feature.
A project completion certificate, usually, include the following details:
Project name and details.
Details of the company.
Details of the client or other party involved.
Start and end date of the project.
Details of activities and tasks.
Details of resources, including human resource, money, materials, etc.
Details of any challenges and issues, if any.
Details of dealing with and resolving the arisen issues, if applicable.
Project completion assurance and notification.
Signatures.
A project completion certificate may not always be issued by the company. It is, usually, issued for long term projects or when it is a company policy or when it is a client's requirement. Nevertheless, there is no harm in issuing this document, rather, it is a safe option to issue this certificate, as it might help the company in dealing with any future issues related with the project that may surface.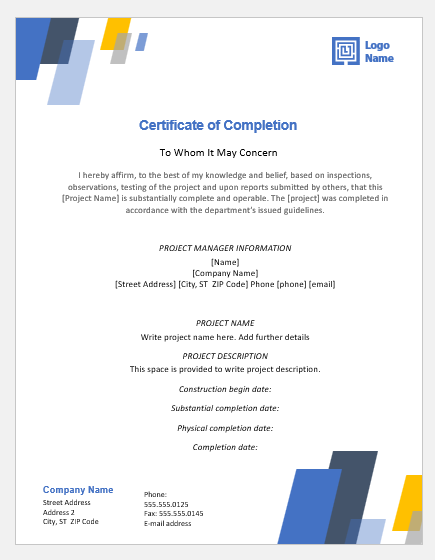 File: Word (.docx) 2007+ and iPad Size 86 Kb |
Download
---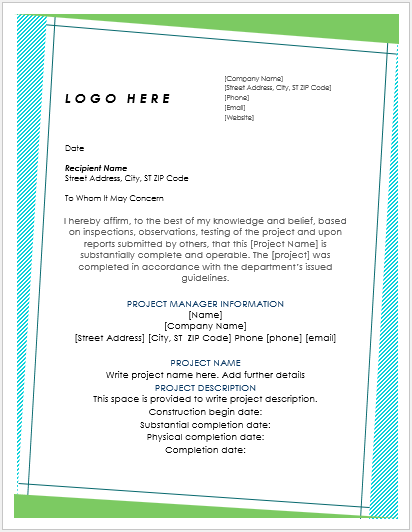 File: Word (.docx) 2007+ and iPad Size 47 Kb |
Download
---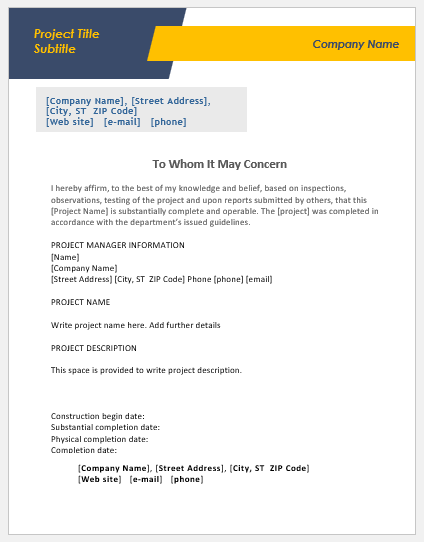 File: Word (.docx) 2007+ and iPad Size 47 Kb |
Download
---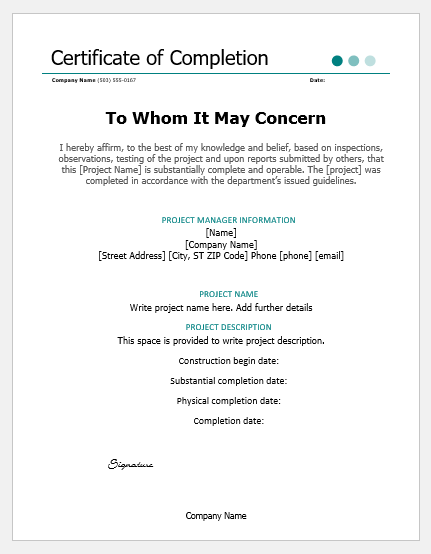 File: Word (.docx) 2007+ and iPad Size 28 Kb |
Download
License: ENERGY  (Personal use only)
(Distribution) by Kate Elizabeth(CEO)
---