An application for working as an email marketer from home is written to the hiring agency of any advertising company, Media Company, digital marketing company, or other companies who need to deal with marketing as a whole or as a unit.
An email marketer needs to be proficient in writing captivating emails and target as much audience as possible. Through the use of profound English language and enchanting phrases, the marketer has to convince audiences of the quality and best facets of the product. Following job skills and responsibilities are needed to work for an email marketer from home:
Marking, maintaining and developing the marketing unit of the company strategically
Having knowledge of audiences' demands and their needs
Having a sound knowledge of digital marketing
Trigger well-equipped email marketing campaigns in the company
Scrutinize these email marketing campaigns and enlist its propagation
Analyze the available data on the specific field/product
Should have sound knowledge of making improvements
Keep an eye on customer behavior and reaction.
Capable to understand customer behavior and modify the pursuance accordingly
Good communication skills
An advance level of accuracy in grammar and technical language
Excellent interpersonal skills
Keep the organization's outlook graceful through email writing
Improve layouts with the help of graphics available
Should be able to work from home with high productivity and under strict deadlines
Proofread, editing and making emails error-free
Ensure accomplishment of the tasks to the clients
Adopt a customer-friendly and amicable behavior for every client and customer
Communicate the product in a profound manner of quality
Should be literate to system management services and HTML
The minimum qualification required for the job is a bachelor in Marketing. Additional language skills or communication skills diploma is preferred and appreciated by the hiring agents. While writing such an application, ensure your skills on the application along with qualification and working experience. Efficient and accurate use of language, technical communication, and marketing skills are three determining factors giving the candidate high chances of getting considered for the job or even recruited.
Following is an application of such kind which can be used accordingly
Sample Application
Re. Application for the Job of Email Marketing
Dear Alex,
I am Shirley Noah from the G9-S area of Capsel Town of TFT Residency, Brooklyn, New York. I am writing this application to present myself for the vacant position of Email Marketer in the marketing section of the Human Resource Department of the company. I came to know about this job from a friend who happened to visit the Facebook page of the company last week. Further, after contacting the organization, I came to know that the applications are being received until the end of June.
Talking about my qualification, I was educated in Sherman High School, New York City. I completed my graduation in Media and Marketing; a program offered to educate media studies and marketing skills simultaneously, from Columbia University, New York City, US. Afterward, I worked as a freelancer in which I used to do organizational marketing through emails and SMS service for one year. I worked in MLGF Groups as a Senior Email Marketer for one year.
I wish to be part of your amazing team and work in your organization as an Email Marketer. I have gone through the skills, qualifications, and age limit required for the job, and I am glad to inform you that I realize myself an excellent match for the job. I assure you of the quality of my work and dedication to this company. Further, working from home is always my first priority as I feel more energetic, proficient, and dynamic in working from home.
I shall be grateful to you if you consider me for the job. I have enclosed the required documents with the application.
Sincerely
Signature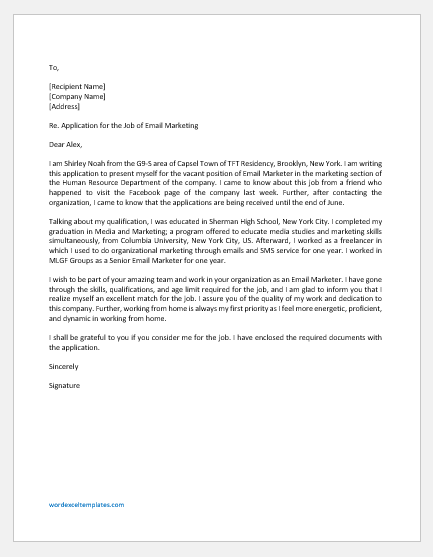 File: Word (.docx) 2007+ and iPad
Size 20 Kb
Download
---