A hair salon is a place visited by masses every day. Due to the trend-culture and self-awareness, there is seen a considerable rise in the number of people visiting hair salons to get them trimmed and well-groomed. With the rise in this culture, hair salons also, today, offer a variety of services which is part of the business.
According to a survey, an American typically spends $360 on haircuts. Similarly, there is an upsurge in the competitions among different hair salons as well. With a variety of services, there is a variety of prices charged for the services differently in different salons. A specific price list is followed to charge each customer for each service.
Hair salon prices should be displayed in the salons and a rise in the prices of services by a hair salon should be notified to the customers through SMS, emails, or display list. An increase in price notice should be notified properly and look self-explanatory i.e. explaining all the factors rationalizing the price raise. While writing a notice of this kind, there should be clear and unambiguous details about the raise. It is a pretty ethical and appreciated way of notifying the price raise by reasoning the price raise.
Address the customers in a well-woven way of writing notice and in a friendly manner. Mention the exact date and day from which the new prices would be followed. Also, mention old and new prices to communicate clearly.
Following is a sample price raise notice of hair salon
The Sample Notice
Sample Hair Salon Price Increase Notice
Dear Customers:
It is to inform all of you that there has been a little raise at the prices of different services by Shaw Hair Styles to be observed from July 1st, 20XX.
The reason behind the price change is following
Inflation in the country
A considerable rise in taxes
Renovation in business and service quality
Keeping the above-mentioned reasons in view, Shaw Hair Styles decides to make a small price increase from July 1st, 20XX for some of the treatments and services. The new price list is given below:
Service/Treatment                                  Old Price                            New Price
Hair Cut                                                $12.5                                  $15
Green Facial Massage                        $30                                     $33.5
Manicure/Pedicure                              $26                                      $30
Beard Styling Plus                               $8.6                                     $9
We take this price raise to ensure the quality of the services and positive results. We appreciate your support and understanding. Your confidence in Shaw means a lot for its business development and customer care relationship. Furthermore, if you have any queries on the matter of price raise, you are welcome to call us at [X] or email us at [Email].
Sincerely,
Shaw Hair Styles
G3-MO Sector, Brooklyn
New York, US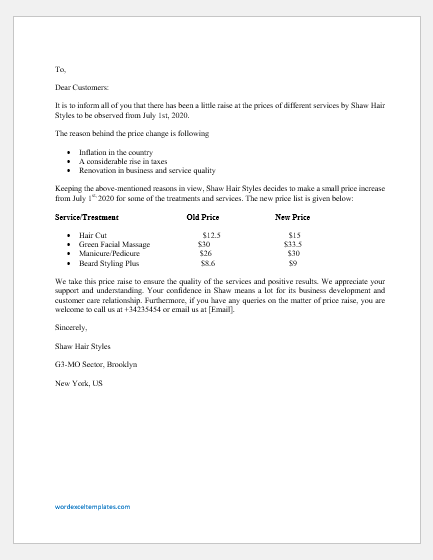 File: Word (.docx) 2007+ and iPad
Size 24 Kb
Download
---